Installing a new portico is one of the best upgrades you can have done for your home, especially if you want it to stand out. Upgrading your entrance will give your home a fresh, new, upgraded and modern look, plus it will increase the value of your home.
If you are having a new portico installed in your home, there are a few things you can do ahead of installation day to make sure you're ready for the crew to arrive and make the process as easy as possible.
Move Cars Out of Your Driveway
Unless your driveway is completely out of the way, it's recommended to remove the vehicles from your driveway to make space for the installers to work. Not only will they need to be able to freely access your front door area, but they will have a lot of supplies they need to bring into to build your new portico.
Clear Your Porch of Any Items
Whether you have a porch or not, it's important that you clear away anything in front of your area that can be moved. This includes furniture, toys, storage bins, garbage cans, or anything else that isn't permanently installed. The less work the installers need to do to clear away your home's items, the quicker the overall installation process will be.
Determine If You Need A Permit
In some areas adding a portico to your home may require a permit prior to construction beginning. If you are unsure of whether you'll need one, your contractor can help advise you in this area. Since the work is being done in the front of your home, you don't want to risk not acquiring proper permits if it's required in your area.
Keep Kids and Pets Inside or in the Backyard
The front of your home is about to become an active worksite, which means it's no place for children or pets to wander freely. During construction, it's important that you not only keep your kids and pets out of the front yard but also away from the front door where they may be tempted to open it. If you have a chain latch, you may want to utilize it during this time.
Consider Re-Siding Your Home
If you need to have the siding of your home replaced, now is a good time to do so. Instead of waiting to replace the siding after the portico has been installed, you should speak with your installer about doing the projects in tandem. Not only will this make it easier on you, since you can get both projects done at once, but it will really improve the look of the exterior of your home.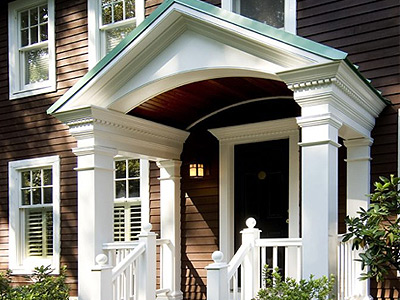 Hire Professionals
It's often tempting to attempt a do-it-yourself project when it comes to home improvements. However, for larger projects like this, you don't want to risk any mistakes or cause any accidents. Starting a project and realizing you can't complete it will create unnecessary expenses and you may risk damaging your home.
Installing a new portico involves building a frame that must be supported by columns which are then attached to the home, sealing all the joints between the house and portico; it will also require the roof of the portico to be shingled. This is not a simple project, and if you don't make it the proper depth or install the recommended number of posts you may risk building an unsecured structure.
Rather than take that risk, hire professionals who know exactly what they are doing.
Contact Us Today for Professional Portico Installation
Porticos are designed to complement the architecture of your home and create a beautiful entryway. They also help to protect you from rain, sun, snow, and sleet when entering your home. Our team will help you design a beautiful-looking portico that will increase your home's curb appeal and impress your home's visitors.
Our trained professionals will take good care of your home and will treat it as if it were their own. We treat every customer like family – this is the #UnifiedFamily guarantee! Call today 516-481-3000 for a free portico consultation or visit our showroom for our portico displays.