Choose an aluminum or lexan awning that fits your style and design. Choose from a variety of colors and features we have available to create an awning you love.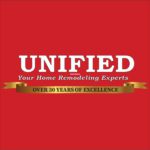 Unified has an exclusive partnership with an awning manufacturer that has been serving New York with the help of Unified for over 30 years. Whether you need a carport, enclosure, patio or door/window awning we can do it all. Let us show you the different colors and combinations of Aluminum and Lexan materials to create a truly custom look.
Our fixed lexan or aluminum awnings are an alternative to fabric retractable awnings. A fixed awning can be mounted to practically any surface and it will provide constant shade and protection for years. They are built for durability, safety, easy handling and are maintenance free.
Our lexan awnings are made from polycarbonate sheeting and available in a clear or smoked style.
Our prices always include the complete installation and structural necessities such as truss for awnings more than 10 feet from your house. All you need to know is the size you need and with one phone call we can give you an exact price. No gimmicks!