A carport can improve the overall value of your home while providing weather-proof protection for your cars, boats, and other vehicles. Our experienced carport installers will build your carport on the site you have prepared for installation. If you have scheduled a new carport installation follow these steps to ensure the installation team can properly set up your new custom carport without delay.
Check If You Need Building Permits
Since a carport will become an extension of your home and become a new structure on your property it's important that you first verify with local city and county laws to see if you need a building permit. If a permit is needed for a carport, don't skip this step as it can lead to trouble and costly fines down the road, especially if you ever try to sell your home.
Decide What Type of Foundation You Want
When ordering your new carport, you also need to decide what type of foundation you to install, like a soil foundation or a concrete foundation for example. Once you decide on what type of foundation you prefer, there are some steps you can take to prepare each type of foundation.
Soil Foundation
If you plan to install your new custom carport on a soil foundation here are some steps you should take to prepare the area for installation:
Remove all vegetation from the area around the site, including grass, bushes plants, and flowers. If there is any vegetation present when installing anchors in the soil, it can weaken the ground.
Level the area. This can be done by packing down the dirt or driving over the area to get it as compact as possible.
Keep everything clean. As with any worksite, the area needs to be free of debris for the installation team to work and set up your new carport.
Once the carport is installed, we recommend covering the area with gravel or small rocks to minimize the wear and tear of the soil.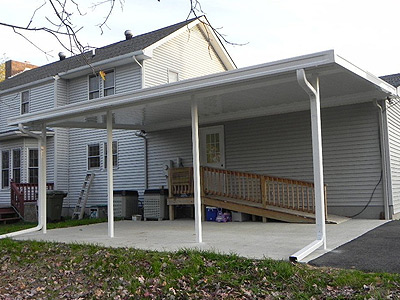 Concrete Base
If you plan to install your carport on a concrete foundation, here are the steps you should take to prepare:

Similar to a dirt installation you will need to remove all vegetation from the area, since you do not want anything weakening the ground around the anchors.
Level the area and set boundaries for the concrete slab.
Whether you are pouring the concrete yourself or having it poured by a professional you need to allow the concrete to set for at least 72 hours so be sure to give yourself enough time prior to the carport installation day.
Clear the area and make sure there is ample space for the installation team to work and bring in any needed materials.
When you pour your concrete slab, you will also want to check the thickness. If the slab is thicker than 4" you will need special concrete anchors. When scheduling your installation be sure to mention to the installer if this is the case.
Wooden Deck
Here is how you can prepare to have a carport installed into a wooden deck:
Clear the area, to ensure the installation team will need to have access to the site.
The deck must be sturdy enough for our installation team to drill into it.
Clear Your Driveway
Remove any vehicles from your drive before the installers arrive, this will make the process much smoother and will allow the installers to access the work area. Another good reason to clear your vehicles from your driveway is to reduce the risk of something falling and damaging them.
Keep Kids and Pets Indoors
If you have children or pets in your home, be sure to keep them inside during the installation process. This will prevent them from getting in the way of the installers and reduces the risk of injury both for your family and the installers.
Contact Us to Schedule a Carport Installation Today
Properly preparing the sites for your new carport is very important in order to have a smooth installation. If you have any additional questions, or wish to know more about the installation process, contact us and we will be happy to answer any of your questions. We can also walk you through your options regarding carports and help you decide on what is best for your home and individual needs.
Our trained professionals will take good care of your home and will treat it as if it were their own. We treat every customer like family – this is the #UnifiedFamily guarantee! Contact us today to schedule an appointment for your carport installation by calling (888) 631-2131.