Deciding on the right shingles for your home? It's not just about picking a product off the shelf. Your home's roof plays a critical role in protecting everything underneath it – your family, your belongings, and years of cherished memories. So, when it comes down to picking the best shingles, it's like choosing the best security guard for your home.
Owens Corning Duration and GAF Timberline HDZ shingles are two top contenders in the roofing game. Both promise durability, quality, and style, but which one truly fits the bill for your needs? In this guide, we'll dive deep, comparing the features and benefits of both. No fancy jargon or sales pitches—just facts and insights to help you make an informed decision.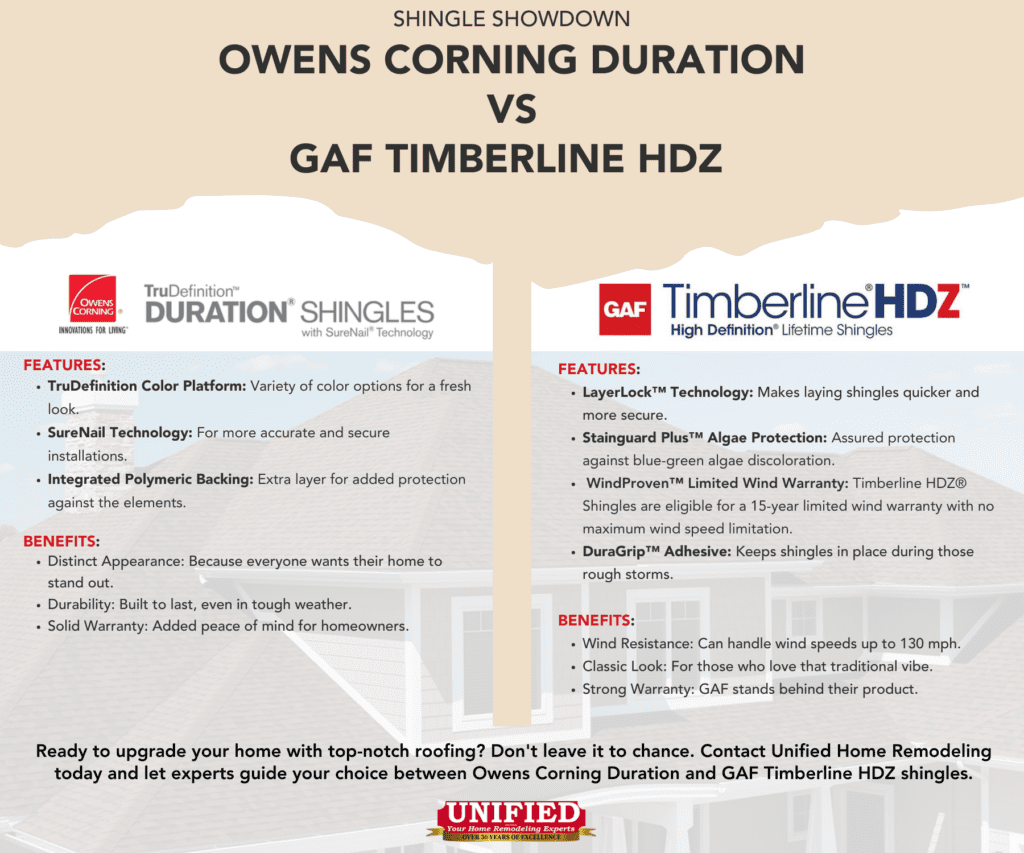 Meet Owens Corning Duration Shingles
Owens Corning is known for pioneering roofing solutions, and their Duration Shingles are a testament to their commitment to quality. These shingles are designed with the modern homeowner in mind, ensuring that both functionality and aesthetics are at the forefront.
A. Unique Features
SureNail Technology:
This isn't just any roofing technology. This innovative SureNail Technology by Owens Corning features a special patented fabric strip that provides exceptional grip, sealant performance, and nail placement accuracy. This triple layer of reinforcement in the nailing zone for excellent fastener holding power against wind uplift.
TruDefinition Color Platform:
With the TruDefinition Color Platform, Owens Corning offers homeowners a vibrant range of high-contrast color options, making houses stand out with striking, bold beauty.
Integrated Polymeric Backing:
Weather can be unpredictable, but homeowners can rest easily with Owens Corning's Integrated Polymeric Backing. This feature provides extra protection against the elements, increasing the shingle's total performance and ensuring your home remains protected against the harshest weather conditions.
B. Three Benefits of Owens Corning Duration Shingles
Exceptional Durability:
With enhanced resistance against 130 mph winds, external wear, and tear, homeowners can trust in a roof that will stand the test of time and nature.
Consistent Appearance:
Uneven shingles can dampen a home's overall appeal. Because of the advanced technology, Duration shingles provide uniform color distribution, creating a consistently attractive appearance that elevates curb appeal.
Enhanced Warranty:
Trust is built on assurances, and Owens Corning offers homeowners peace of mind with their extended warranty options. By buying Duration shingles, you invest in top-quality roofing and a product guaranteed to perform for a long time.
What's Great About GAF Timberline HDZ Shingles?
Just as Owens Corning has etched its name in the roofing hall of fame, GAF's Timberline HDZ shingles have consistently remained a preferred choice for many homeowners. Known for their durability and aesthetic refinement, these shingles embody a blend of tradition and technology, creating a roofing solution like no other.
A. Unique Features
LayerLock™ Technology:
GAF's pride, the patented LayerLock™ Technology, revolutionizes the shingle laying process. By multiplying the common bond between overlapping shingle layers it amplifies the shingle's nailing zone, making installations quicker, more accurate, and more robust.
Stainguard Plus™ Algae Protection:
Roofing damage isn't just about external wear and tear of the shingle; often, it's the unseen internal damages or growth of harmful algae from the elements that can be more detrimental. With Stainguard Plus™, GAF guarantees against blue-green algae discoloration making your roof look newer and longer. 
DuraGrip™ Adhesive:
With Timberline HDZ, you no longer have to worry about shingles blowing off during storms. The DuraGrip™ Adhesive tightly seals each shingle, substantially reducing the risk of shingle blow-off and ensuring that your roof remains intact, even during the harshest weather conditions.
WindProven™ Limited Wind Warranty:
When installed with the required combination of GAF Accessories, Timberline HDZ® Shingles are eligible for a 15-year limited wind warranty with no maximum wind speed limitation.
B. Three Benefits of GAF Timberline HDZ Shingles
Superior Wind Resistance:
When the winds rage, Timberline HDZ stands firm. Crafted to withstand winds up to 130 mph, these shingles offer homeowners the confidence that their roofs will remain undisturbed, come rain or shine.
Perfect Finishing:
Beyond the technical prowess, GAF hasn't forgotten its aesthetic appeal. The Timberline HDZ shingles effortlessly blend the charm of traditional roofs with the strength of modern technology.
Lifetime Limited Warranty:
GAF offers a lifetime limited warranty with their Timberline HDZ shingles as a testament to their faith in their product.
What is the price difference between Owens Corning Duration and GAF Timberline HDZ shingles?
The price of Owens Corning Duration and GAF Timberline HDZ shingles can vary based on factors such as region, supplier, volume of purchase, and any ongoing promotions or discounts.
However, in general terms:
Owens Corning Duration Shingles: These are often considered premium shingles and might come with a slightly higher price tag. But remember, the price can reflect the product's features, like SureNail Technology and TruDefinition Color Platform.
GAF Timberline HDZ Shingles: These are among the top-selling shingles in the U.S. and offer a balance between quality and cost. The price is competitive, given its features and durability.
For the most accurate and up-to-date pricing information, please stop by any local Unified Showroom or give us a call at (888) 631-2131
So, Which Shingles Should You Pick For Your Roof Replacement?
The roof over your head is not just a structural necessity. Choosing shingles is a big deal, so keeping quality, durability, and aesthetics in mind is important. Both Owens Corning Duration and GAF Timberline HDZ shingles offer homeowners a stellar combination of these attributes, making the decision challenging but reassuring, knowing there's no wrong choice.
With Owens Corning Duration, modern technology meets vibrant aesthetics. You'll get a roof as visually appealing as it is sturdy with the TruDefinition Color Platform and SureNail Technology. The brand has consistently delivered on its promises, with countless homes across the nation standing testament to its excellence.
GAF Timberline HDZ, on the other hand, combines timeless beauty with cutting-edge technology. This wood-shake finish, combined with LayerLockTM and DuraGripTM technologies, ensures a lasting investment.
Making the final choice between these two giants in the roofing industry is not about determining which is better universally but about discerning which is better for your home, your environment, and your vision. Armed with the knowledge from this blog, you're now well-equipped to make a decision that you'll be proud of for years to come.
Despite paint colors changing and interiors changing, a reliable roof stands unyielding, offering protection and charm all the same. Whether you lean towards Owens Corning Duration or GAF Timberline HDZ, it's safe to say that your home will be well protected.
What's Next For Your Roof Project?
So, you've gathered all this information, but taking that final leap can still seem daunting. That's where Unified Home Remodeling steps in.
As a Platinum Preferred Owens Corning Contractor and a GAF Master Preferred Roofing Contractor, Unified has the training and experience to install a roofing system on your New York home you can be proud of.
We've handled countless projects and can provide clarity on both products. Consider reaching out to us. With our guidance, you can navigate this decision with greater confidence. Why tackle it alone when you can have seasoned pros by your side?