From the perfect cabinet color to choosing the ideal flooring type, every choice is critical. But one of the most important elements that you should consider for creating your dream kitchen space — though often overlooked — is how to select the right backsplash tiles. Backsplashes add pop and texture to a room while protecting your walls from water damage during food preparation and cleaning. Let's keep reading!
Research different types of tiles, including
Are you considering a tile renovation but not sure where to start? At https://www.mineraltiles.com/, you can choose among different types of tiles, including ceramic, porcelain, stone, glass, and metal. Let's take a close look at how each material may benefit your style, budget, and maintenance preferences.
Ceramic tiles are known for their affordability and easy clean-up. They come in a variety of colors, patterns, and textures and can be easily customized to fit your design needs.
Porcelain is a great choice if you want the look of natural stone without the cost or maintenance required. This type of tile is also well-known for its durability and resistance to staining.
Stone tiles offer a timeless, classic look that is perfect for kitchen renovations. Natural stone is available in several different textures and colors, making it easy to find the perfect option for your home. But be aware that natural stone can require more maintenance than other types of tile.
Glass tiles are stunning and create an instant focal point in any kitchen. They come in a variety of colors, shapes, and sizes to match your desired aesthetic. However, glass can be expensive, so consider your budget before making a final decision.
Metal tiles are perfect if you want a sleek, modern look for your kitchen backsplash. These materials are also incredibly durable and can withstand wear and tear while still looking great.
Consider the size of the room and the amount of wall space available
The backsplash serves a functional purpose in protecting the walls from cooking and cleaning while adding a stylish touch to the overall design of the kitchen. If you have a smaller kitchen with limited wall space, consider choosing a backsplash that is more subtle in color and pattern to avoid overwhelming the space. On the other hand, if you have a larger kitchen with plenty of wall space, you can have fun with bold colors and unique patterns to create a statement piece in the room. Regardless of your kitchen size and style, the backsplash is a crucial element that should not be overlooked in the design process.
Evaluate the color scheme and design
Your kitchen is the heart of your home, and as such, it should reflect your style and personality. The color scheme and design of your kitchen cabinetry and countertops can make or break the overall aesthetic of your space. You want to create a cohesive look that is both functional and stylish. And a backsplash can tie everything together, adding a pop of color or texture.
When selecting your backsplash, think about the overall feel you want to achieve. Are you going for a modern look or something more traditional? In any case, there is a tile out there that will complement your existing features.
Compare various design patterns
Design patterns are a fantastic way to add some unique flair to a space. With so many patterns to choose from, including subway tiles, hexagons, mosaic tiles, and herringbone, it's challenging to decide which one to use in your next project.
Subway tiles are a classic choice that adds understated elegance to any room. They are easy to install and come in a variety of shapes, sizes, and colors.
Hexagon tiles have become increasingly popular over the past few years, as they offer an eye-catching look without overwhelming the space.
Mosaic tiles also create a unique texture in your kitchen renovation, which can add depth to the overall design.
Herringbone patterns are perfect for achieving a modern, rustic look. This classic pattern has the ability to add interest while still maintaining a timeless design.
Consider durability
A backsplash is meant to protect your walls from spills and splashes, and it should feature a design that complements your overall kitchen decor. But what good is a beautiful backsplash if it starts to show signs of wear and tear after a short period of time? With so many options available, it can be tempting to select a trendy tile that may not be durable. However, choosing a durable and long-lasting tile will save you money in the long run and ensure that your kitchen looks great for years to come. So, keep in mind the importance of durability when selecting a tile for your backsplash — it's more than just a design choice.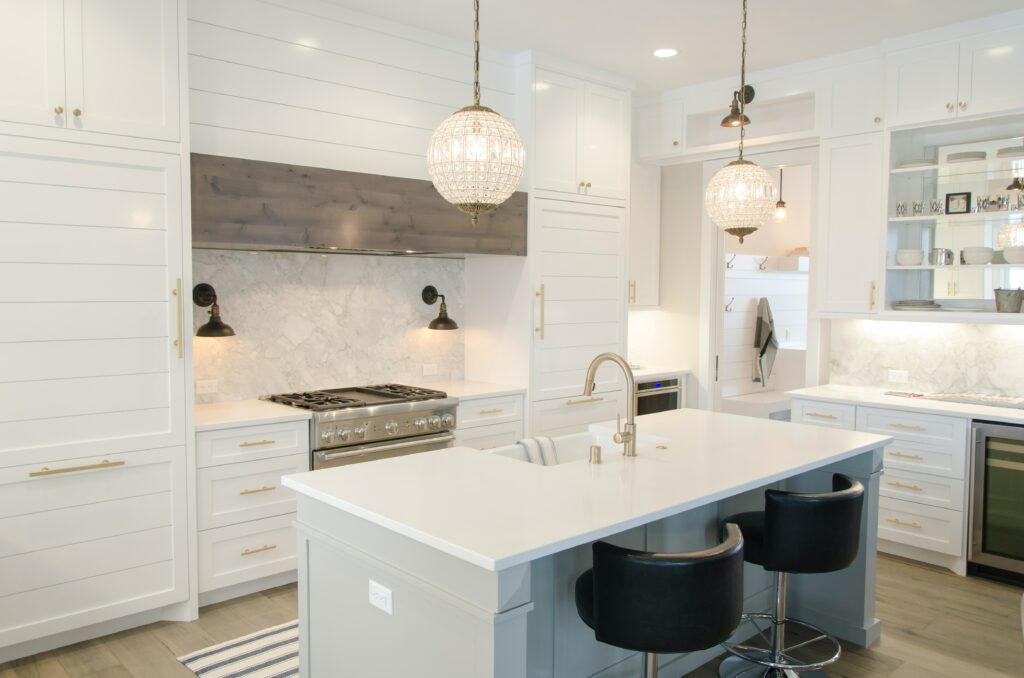 With careful consideration of the materials, design patterns, colors, and size of your room, you can create a timeless look that will last for years to come. Selecting the right backsplash for your kitchen renovation is an important decision and one that should not be taken lightly. But if you take the time to do your research and weigh your options, you can find the perfect tile option to bring your dream kitchen to life.