While you use your doors every day, interior door maintenance is probably one of the last things you think about when compiling a list of summer home improvement projects. However, interior doors require proper care if you want them to operate and look their best.
Interior doors serve several purposes. They are one of the most aesthetic and functional aspects of your home's décor. Interior doors also make your home secure and provide privacy, enhance the flow of design and increase the connectivity between rooms.
While choosing the right interior door design and color scheme is a good start, you must also follow up with a routine care and maintenance plan to ensure your doors continue to look pristine and well-kept.
Interior Door Maintenance
We've already shared a bit about how to professionally maintain your front door, but here's how you can keep your interior doors shiny, new and long-lasting.
Clean regularly
As a baseline, your annual door maintenance routine should involve cleaning your door and inspecting it for problems. It should involve wiping the door regularly—ideally without waiting for the dirt to absorb into the structure of the material—and cleaning the accessories to avoid staining.
Like most things in your home, exactly what needs to be done to maintain your door will vary slightly depending on the material, so we've provided a few maintenance tips by material below: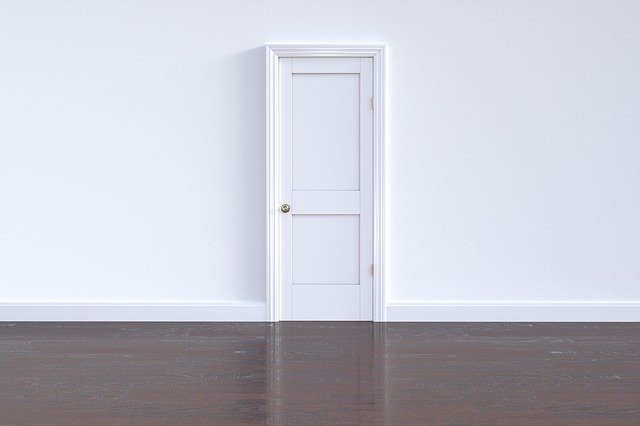 Natural wood – Interior doors made of solid wood are premium grade and, because of their high quality and natural characteristics, these doors should last for decades. Assuming you take proper care of your doors, of course.
Treat natural wood doors just as you'd treat any other wood surface in your home. Wife the surface with a soft, dry cloth and never use abrasive or household chemicals. You'll need to use special detergents or a 10% alcoholic solution to remove tough stains and grease.
Solid wood is extremely sensitive to humidity and temperature changes can cause the wood to expand, swell or crack. Splits may even appear in rooms with low humidity. If that happens, use only special furniture wax to repair.
Wood veneer – Those with wood veneer require a different approach and more regular maintenance. A veneer is basically a thin layer of fine wood. Therefore, you'll need to treat it almost like you'd treat a natural wood door. You can use wax-based furniture polishes to extend the life of veneered doors. As an added benefit, furniture polishes with high content of wax will hide scratches and small cracks that inevitably show up on high-use doors.
Like natural wood, you shouldn't use abrasive cleaners or stiff bristles because they'll damage the surface of the veneer.
Laminate/CPL – Laminate doors are durable and water-resistant. CPL (Continuous Pressure Laminates) is a multilayer material made from natural wood fibers and a synthetic binder that imitates the texture and color of valuable woods. However, these doors have the benefit of increased resistance to abrasion.
Because of the lack of pores in the structure, laminate does not absorb impurities and they aren't susceptible to moderate humidity. They are among the simplest of doors to care for—generally, a simple wipe of the door with a damp cloth or sponge is sufficient to ensure a shiny and appealing interior door.
Glass – Full glass doors can be cleaned with Windex™ or any other glass-cleaning solution you use on mirrors and windows. If any of your doors have glass panels, use a standard glass cleaner or a vinegar/water solution, but make sure you wipe the liquid before it drips on the rest of the door.
Video: Fixing an Interior Door That Won't Stay Closed
Inspect seals and hinges
While you're spending a few moments cleaning your door, it's a good idea to look it over for signs of damage. A simple visual once-over can help you find things like worn-out hinges, which would need to be replaced for better safety and security. It may be as simple as tightening the screws to ensure the hinges sit appropriately.
Ensure handles and locks are functioning
Handles and locks tend to suffer most from the effects of wear. Make it a point to check the functioning of all the doors' handles and locks once every six months. Simply move the handle back and forth like you normally would and examine the lock mechanism to ensure it moves smoothly.
For brass hardware, apply a non-abrasive wax to protect and restore its luster. Go to your nearby hardware store and ask for different options suitable for your hardware's material.
Sounds such as creaks or squeaks could be indicators that you need to replace your door(s). We stock REEB Interior Doors, which focus on layouts from modern and minimalistic to classic and conventional. REEB offers a multitude of options from stainable to paintable doors to enhance the style of any home. You can choose from a solid core, hollow core, or solid particle core with a variety of colors and designs to match your home's décor.
Contact us at (888) 631-2131 or visit www.unifiedhomeremodeling.com to schedule a free door installation estimate.
At Unified, we install all types of doors for your home, including entry doors, storm doors, security doors, patio doors, garage doors, and interior doors. We can install a new door in your home or replace an existing one with our team of highly trained door contractors. Our home design and remodeling specialists are current on all the new door trends and can help select the perfect replacement to enhance your home's appearance.