Renovating your home can be an exciting and daunting task at the same time. On one hand, you have the opportunity to transform your living space into your dream home, but on the other hand, there are so many decisions to make and things to consider. Whether you're planning a full-scale renovation or just a simple upgrade, it's important to take the time to plan and prepare. In this blog post, we'll be sharing the top things you should consider doing during your next home renovation so that you can create a space that not only looks great but also meets your functional and practical needs.
Waterproof Your Basement
One of the most important things to consider during a home renovation is ensuring that your basement is properly waterproofed. A leaky basement can cause a range of problems, from damaging your belongings to promoting the growth of mold and mildew. Before you start any renovation work, it's crucial to address any existing moisture issues and take steps to prevent future water damage.
There are a variety of methods for waterproofing a basement, such as installing a sump pump, applying a waterproof coating to the walls and floors, or adding exterior drainage. It is essential to work with experts to ensure a successful outcome. For instance, Basement waterproofing Boston professionals can assess your particular situation and provide the best solution for your home. By taking the time to properly waterproof your basement, you can ensure that your home is protected and your investment is secure.
Insulate for Comfort
Another crucial aspect to consider during your home renovation is insulation. Proper insulation can make a significant difference in the comfort of your home by helping to regulate temperature and reduce noise. Whether you're adding insulation to your walls, attic, or floors, it can help keep your home warm in the winter and cool in the summer, which can save you money on energy bills.
Additionally, insulation can help reduce noise transfer between rooms or from outside, creating a more peaceful and comfortable living space. With various types of insulation available, including spray foam, fiberglass, and cellulose, it's important to research and choose the best option for your specific needs and budget.
Change Your Lighting
Updating your lighting is another simple yet effective way to enhance your home during a renovation. Lighting can greatly impact the mood and ambiance of a space, and by changing the type or placement of your lights, you can create a more inviting and comfortable atmosphere. Consider swapping out old light fixtures for new ones that better match your style and decor or adding dimmer switches to create a more customizable lighting experience.
Additionally, adding natural light sources such as skylights or larger windows can also brighten up a space and provide numerous health benefits. With so many lighting options available, finding a solution that meets your unique needs and preferences is easy.
Upgrade Your Windows
Upgrading your windows is another important consideration during your home renovation. Old or inefficient windows can lead to drafts, higher energy bills, and reduced comfort in your living space. Upgrading to energy-efficient windows can help prevent heat loss in the winter and heat gain in the summer, which can significantly reduce your energy bills.
Modern windows often come with features such as noise reduction and UV protection, which can improve your overall living experience. With a variety of window styles and materials available, it's important to research and choose the best option for your home's specific needs and style. For instance, vinyl windows are popular for their durability and low-maintenance needs.
Change Your Flooring
Updating your flooring is a key element of any home renovation project. Your flooring can greatly impact your space's overall look and feel and is subject to a lot of wear and tear. Consider upgrading to a more durable and stylish option, such as hardwood, tile, or vinyl plank, which can provide a long-lasting and attractive finish.
Choosing flooring with insulating properties can help improve your home's energy efficiency and reduce noise transfer. With numerous flooring options available in a variety of colors, patterns, and textures, you can easily find a solution that meets both your aesthetic and functional needs.
Repair or Replace Your Roofing
Your home's roofing is one of its most important structural elements, providing protection from the elements and insulating your living space. If your roof is old, damaged, or leaking, it's important to consider repairing or replacing it during your home renovation. Roof repairs can help address small issues before they become bigger, while a full replacement can provide a long-lasting and durable solution.
Additionally, upgrading to energy-efficient roofing materials such as metal or shingles with reflective coatings can help reduce energy bills and improve your home's sustainability. With the help of a professional contractor, you can choose the best roofing option for your home's specific needs and budget.
Consider Landscaping
While most home renovations focus on the interior, it's important not to neglect the exterior of your home. Landscaping can significantly enhance your home's curb appeal and increase its overall value. Consider adding features such as a patio, walkway, or outdoor lighting to create an inviting and functional outdoor living space.
Planting trees, shrubs, and flowers can also improve the look of your property and provide numerous environmental benefits, such as improving air quality and reducing erosion. With various landscaping options available, it's important to choose a design that complements your home's style and personal preferences. A professional landscaper can help you create a plan that meets your aesthetic and practical needs.
Don't Forget Your Kitchen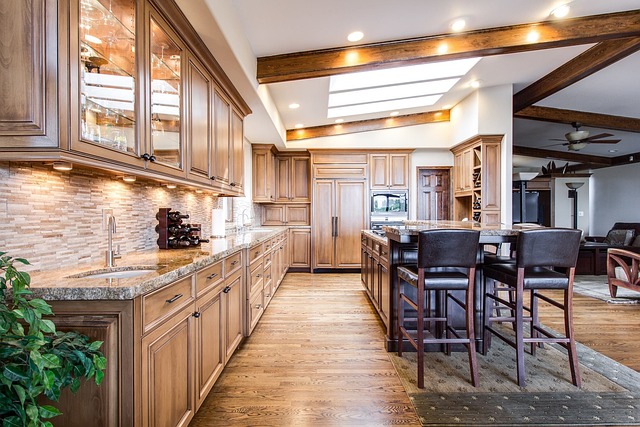 The kitchen is often referred to as the heart of the home, an area that should not be overlooked during your home renovation. Upgrading your kitchen can improve your space's look and feel and increase its functionality and value. Consider upgrading to energy-efficient appliances, adding more storage space, or installing new countertops or cabinets.
Updating your kitchen's lighting or adding a fresh coat of paint can provide a quick and easy refresh. With various design options available, you can create a kitchen that meets your cooking and entertaining needs while reflecting your style.
Home renovation offers a great opportunity to improve your home's overall functionality, comfort, and value. You can create a living space that better meets your needs and preferences by considering the various aspects discussed above, such as waterproofing your basement, upgrading your windows, or enhancing your landscaping. Whether you tackle a full-scale renovation or simply make a few small updates, planning and researching your options can help ensure a successful and satisfying outcome.