Spring is upon us! That means only one thing. It's time for some spring home maintenance. Check out these tips to get you on your way.
When winter is over, it's time to inspect your property for damage and get ready for the warmer months ahead.
Spring is a great time to get outside and tackle some larger home repairs as the days lengthen and the weather warms. Now that the fear of winter storms has passed, you may inspect your home and garden for damage and make any necessary repairs, as well as prepare your home and garden for the summer. Learn from our professionals with advice on what to look out for this season, from correct irrigation to insects and termites.
Gutters And Downspouts Should Be Kept Clean
It's critical to get your gutters and downspouts cleared and fixed after the last frost. Clogged downspouts and gutters can destroy the wood trim around the eaves, allowing all kinds of vermin into your attic space.
Cleaning your downspouts and gutters early in the season will also help protect your home from damage caused by spring showers. Gutters and downspouts should be free-flowing and clean. Water is channeled away from your home by correctly constructed downspouts, so no water pools near your foundation causing potential leaks.
Woodwork Should Be Repaired And Resealed
Railings, fences, trellises, and other structures also require attention. If left alone, and made of wood, these structures will degrade and rot. If you've installed vinyl fencing or railings, a simple cleaning should do the trick.
If you have a wooden fence, make sure the panels are in good shape. If the wood is dry, split, or fractured, these parts can be bonded back together. As the glue hardens, tape the parts together. Planks that are too damaged to be repaired should be replaced.
Rejuvenate tired wood with a power washer, then protect it with wood oils and preserves. Because it maintains the wood pliable and water-resistant, decking oil is the finest choice for fence treatment. Exterior wood oil helps to maintain your wood and can help your fence last longer.
Examine The Windows And Doors
To keep bugs out of your house, repair or replace the screens on your windows and doors. It's also a good idea to clean your windows at this time. Before washing the panes, use a vacuum tool or a soft brush to clean the tracts and seals.
Clean the weep holes on storm windows to ensure they aren't blocked. Put water into the sill to see if these vital drain holes are open. To clear out the holes, you can also use a tiny wire.
Finally, look around your windows for thick grasses or stagnant water. Stagnant water can be a mosquito breeding site.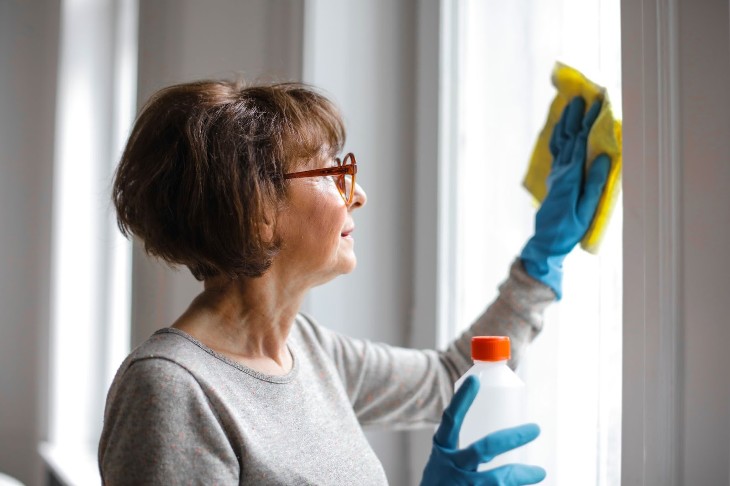 Photo by Andrea Piacquadio
Clean The Screens And Windows
Allowing more natural light into your home through freshly cleaned windows is a great way to start your spring cleaning. Dish soap, white vinegar, and water can be used to clean the exterior of your windows to remove the filth. Before rinsing the window with water, scrub it well enough to create a pleasant lather. To keep things a little less messy, use a window cleaner spray, either store-bought or homemade, for inside cleaning.
Window screens should be cleaned as follows:
Fill a spray bottle with a moderate vinegar and water solution.
Remove the screen and clean any dirt or grime using a spray bottle.
Add a small amount of dish soap to the vinegar mix and re-spray for more tenacious stains.
After cleaning the screen with any form of cleaner, rinse well.
Allow the screens to dry for a few hours outside before replacing them on the windows.
Check out this video to learn how to clean your windows like a pro:
Doors And Windows Should Be Sealed
It's typical for uninvited critters and insects to make their way into the comfort of your house during the winter months.
Termites are a common home invader, particularly during colder weather when they seek to exploit home heating systems. To prevent termites from entering your home, ensure all screws around doors and windows are tightened.
Rubber door sweeps can be worth including on your spring home maintenance schedule. These low-cost items can be attached to the bottom of any external door that has a gap between the door and the threshold. Rubber door sweeps will keep troublesome insects out, and they will also help maintain a more consistent internal temperature in your home.
Examine The Concrete
Check for cracks in the driveway, pool deck, and walkways as you go around your house. Silicone caulk or cement fillers can be used to fill cracks. If the concrete cracks are too severe to be repaired, consider replacing the concrete entirely.
Check Your Faucets On The Outside
Allowing outside faucets to flow is a good way to test them. Place your index finger over the hole. If the water stops flowing, you should get your pipes inspected by a professional. Look for any evidence of leaking as well.
Photo by Adrien Olichon
Inspect Your Roof And Chimney
You don't need to get up there; with binoculars and a sharp eye, you can undoubtedly notice trouble. Do you notice any shingles shifting, which could indicate that some fasteners have failed and need to be replaced? Are there any shingles that are cracked or missing? How about some nail pops? It occurs when nails force the shingles' tabs up, allowing water to enter where the nails are protruding. To maintain your roof performing at its best, all of these issues must be addressed.
Check the joints between the bricks or stones if you have a masonry chimney. Have any of your nails fallen out? Is there any kind of plant growing on them? Each one denotes the presence of water. Look for efflorescence, a white calcium-like film showing that your brickwork joints absorb rather than resist water. Consider using a transparent, impermeable, or water-resistant barrier material to re-seal brickwork). Brush it on in small sections at a time, allowing it to absorb for 15 minutes before reapplying—it may require many applications.
Inspect And Paint Your Exterior Walls
Look for issue places, especially beneath eaves and gutter downspouts, whether you have wood siding, stucco, or brick. Water stains usually mean that your gutters aren't catching enough roof runoff. Check for openings, damaged areas, or knots that have popped out, allowing carpenter ants, woodpeckers, and other creatures to nest in or burrow through your wood siding.
After you've made sure there's no major exterior damage, the next item on your spring home checklist is to touch up any areas that could need a fresh coat of paint. Repainting siding or trim isn't just for when you're doing a makeover. This is a simple task that you can do at any time of year, but especially after the winter storms.
Look for areas that need to be painted, such as external paneling, siding, and window and door trim. Make sure the paint you use complements the outside color of your house. If you don't have the exact paint color you want, ask your local hardware or paint store to see what they recommend for getting a close match.
Take Care Of Your Lawn
Rake the lawn to remove any fallen branches, dirt, or leaves that may have suffocated the grass beneath. Soil compaction and chemical changes that alter your soil's PH may have left your lawn susceptible to weed growth and other concerns over the winter. Weeds are more than likely waiting for ideal conditions to proliferate, even if you can't see them. Consider using an organic herbicide to prevent them from germinating; fertilizers are better used in the fall.
Ensure that all outside water systems, including pipelines, faucets, and in-ground sprinkler systems, are in good operating order. Begin preparing fresh garden beds for summer plants after the earth has completely thawed. Also, take inventory of your lawn-care instruments and equipment, such as lawnmowers, trimmers, and hoses.
Patios And Decks
Look for warped, loose, or splintered boards, then clean the space between them to remove any accumulated leaves or debris. A deck should be cleaned every spring to extend its life, whether it's made of wood, plastic, or composite. Spring is the time to clean, stain, and reseal your wood deck if the finish is faded or damaged. Follow the manufacturer's seasonal care instructions if you have a composite deck. Wood and composite fencing, pergolas, trellises, and other structures are all affected in the same way.
Your Outdoor Furniture
Bring your lawn furniture outside and give it a hose rinse or a moderate detergent wash if it was kept over the winter. Check for evidence of rust or paint erosion on metal furniture; a simple application of spray enamel will prevent harm from the sun, rain, and humidity in the coming months.
Spring is the perfect time of the year to sort out some much need house maintenance, don't forget to do the inside of your home too!