No matter the style, your home's curb appeal goes a long way in determining its value. The right roofing and siding color combination—one that complements your home's individuality — can do wonders with making a good first impression.
Long Island comprises many architectural single-family home styles, each of which plays a significant role in influencing the right color selection of your home.
For example, a ranch-style home in Huntington looks best with a light color roof and siding, while Colonial homes popular across the North Shore look best with a dark roof and light siding. Cottages, like those in Greenport, work best with a dark roof and any color siding.
The number of color combinations available can be overwhelming, but our team of experts are here to answer any questions you might have about new siding and roofing installation and to guide you down the path to an entirely new look that you'll adore forever.
Below are a few tips and tricks to get you started.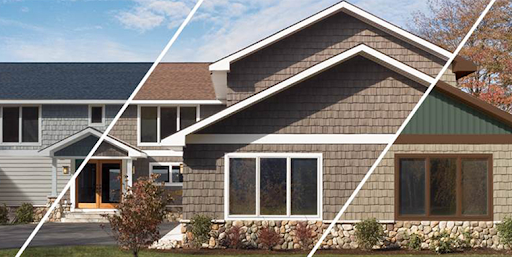 Choosing Your Roofing and Siding Color Combination from Scratch
If you're planning to redo the entire exterior of your Long Island home, you've got the benefit of a blank canvas. We always recommend homeowners begin by choosing their siding color first and then coordinating the rest of the exterior with complementary colors.
Here's two things to consider before you begin.
Permanent features, including your brick foundation, stone columns or major landscaping elements (trees, shrubs, etc.). These are elements of your home that remain unchanged without a significant remodel. Permanent features may even include neighborhood features like mailboxes or streetlights and even train tracks.
Style. Oyster Bay and Huntington look very different from Freeport or Glen Cove. Is your home waterfront or is it near the train tracks? Are there town housing standards? These variables play a role in the color choice and combination of your home.
If you're changing just one color of your home's exterior, start by figuring out whether you prefer a subtle, understated exterior complemented by colorful landscaping—or if you want your home to make a dramatic statement all on its own.
Your roofing and siding should always contrast in color. However, the amount of contrast is important—less contrast means you'll have a more subtle, quieter exterior while more contrast creates a more dramatic exterior. Your best bet is to choose colors that provide the greatest contrast and focus on making sure each area stands out distinctly from the other.
Matching new siding to your home's existing roof Color
Some palettes are common because they naturally work well together. The simple rule of thumb for matching new siding to an existing roof is to pair two like colors together: a warm color with a warm color, or a cool color with a cool color.
Warm tones have a yellow, orange, red, brown, or gold undertone or hue. Conversely, cool tones have a white, blue, or green undertone or hue. If your existing roof has a warm tone—like Owens Corning's Brownwood or Teak or TAMKO's Autumn Brown or Rustic Redwood—choose siding in a similarly warm shade like CertainTeed's Autumn Red or Buckskin. If your home has cool-toned shingles like Owens Corning's Harbor Blue or Estate Gray or TAMKO's Thunderstorm Grey or Black Walnut, select a cooler siding color like CertainTeed's Pacific Blue or Sterling Grey.
You should also consider your home's proportions and scale when choosing a color. The right siding colors can emphasize or tone down features on the exterior of your home. For instance, bright siding can give your home some dimension by making the front windows appear more prominent. Lighter colors can make homes appear larger, and darker tones can "shrink" them.
VIDEO: What is the Best Roofing Color, Pairings & Most Popular
Matching a new roof to your home's existing siding Color
The safest bet is to stick with the basics. Our most popular roofing shingle colors are in shades of black, brown, red or grey. They're popular for a reason and have been used for centuries on roofs of all different types.
One of the biggest decisions to make is to blend in or stand out. Take a look at the rest of the block or neighborhood. If every house on the block has a neutral or consistent color, you might think twice before standing out with a bold color and metal roof. However, homes constructed by the same builder in a small neighborhood can create a sea of sameness, and this might be an opportunity to stand out.
Are you ready to revamp the exterior of your home? Visit www.unifiedhomeremodeling.com or call 888-631-2131 to schedule a free estimate. Your roof provides you with the protection you want, and our team will help add curb appeal and increase the value of your home with the beautiful aesthetics of Owens Corning, TAMKO and GAF roofing, as well as our James Hardie, Provia, Alside and Tando siding.
Unified Home Remodeling is the leading home improvement contractor company in your area and our team of experts have the talent to make sure you get the look that you want—and ensure that you love it forever.