Replacing your home's roof is one of the best investments you can make in your property as a homeowner. Not only will it serve to protect your home but it will also raise your home's value. The actual process turns your home into a work zone for a short period of time so we've put together some tips on what to expect and how to prepare.
Keep reading to find out exactly what you should expect on the day of your roof replacement. We'll discuss everything you need to know to prepare your yard and home for a seamless process.
Clear Vehicles From the Driveway
This is very important since the roofers will need quick access to their tools and trucks throughout the process. They will also need ample space to load shingles and debris, and a spot to place the dump trailer. In addition to leaving them space to work, you'll want to keep your vehicle's a safe distance from the work area to ensure debris doesn't fall on or damage your car. If you have a garage you should keep the doors closed during construction to keep it free of dust and debris.
Identify Accessible Power Outlets
The roofers will need access to electrical outlets while they are working. Exterior outlets are best for this type of job, but if your home does not have any, a garage outlet will work as well. If the roofers need to utilize interior outlets for any reason they will run extension cords through a door or window.
Remove Or Cover Valuable Items In The Attic
If your attic contains any valuables you should take some precautionary measures to protect them. During your roof replacement installers will be walking on your roof, and using hammers which can cause dust and small bits of debris to fall on items in your attic. Additionally, the vibrations from the work can cause something to fall if it is not secured. You should consider covering items in your attic with a drop cloth to keep them dust-free.
Remove Wall Decorations
It's possible that the vibrations from the hammers and other machinery on your roof can travel through some walls of your home which might cause items to fall. Before construction begins, take a walk through your home and remove any items that are not permanently secured to the wall with screws. You might also consider removing light fixtures like chandeliers just to be safe.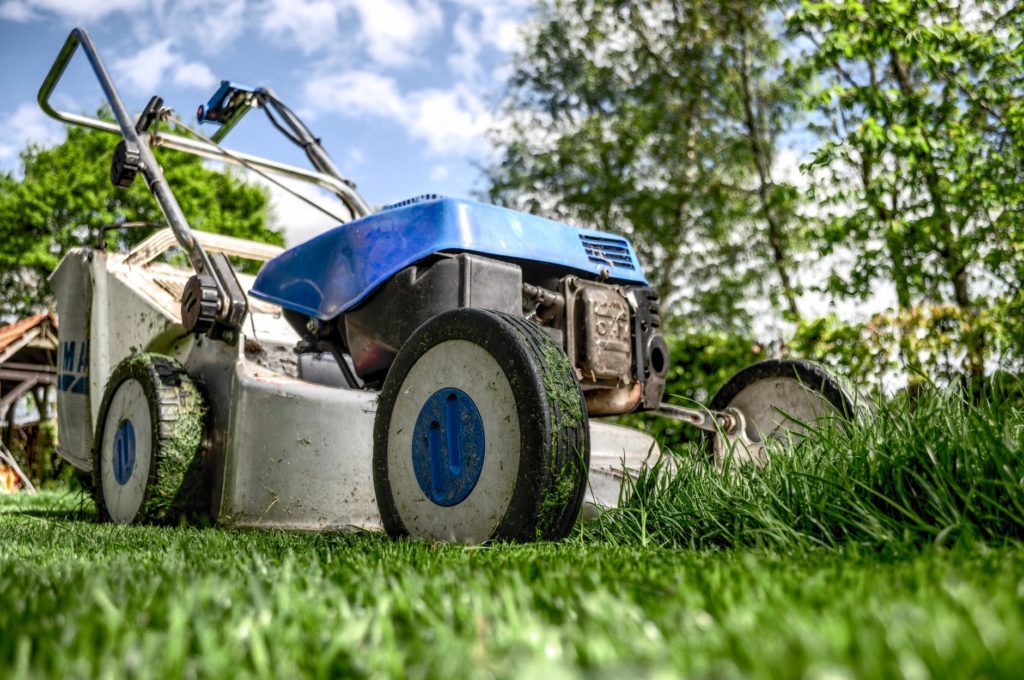 Cut the Grass Around Your Property
Mowing the lawn before your roof replacement is helpful since it will allow for an easier cleanup post-construction. Additionally, any tree branches that hang low by the roof will need to be trimmed beforehand.
Move Outdoor Furniture
Since the roofers will be throwing away old shingles and other debris while they are working you'll want to move anything of value out of the way while they are working. This includes backyard furniture, garden pots, bikes, toys, gardening supplies, decorative lighting, mosaic stepping stones, garden statues, fountains, or potted plants. Anything that you don't want to risk being damaged should be moved as should anything that could create a tripping hazard for the workers.
Mark or Protect Your Plants
Potted plants should be moved a safe distance away from the work zone, however, if there are plants that cannot be moved such as flowerbeds, trees or bushes that are valuable or fragile you should mark them to alert the workers. If you can, you should place netting or a tarp over them to provide a layer of protection as well as inform the workers to be extra careful.
Mark Backyard Ponds
If you have any water fixtures or ponds in your backyard be sure to clearly mark them off to alert the roofers of their location so no one accidentally steps into it causing damage or injury.
Turn Sprinkler System Off
This is especially important if your sprinklers are on a timer since you don't want them to go off while the roofers are working. It's also important to mark your sprinkler system and each sprinkler head so the roofers will not trip over it. If your roofing project will take more than a day you should turn off the system until the project is complete.
Unlock your gates
This is a simple step, but an important one since the roofing professionals will need to have access to your entire yard to complete their job properly and efficiently.
Arrange Satellite Dish Re-installation
For homeowners that have antennas or satellite dishes on or near their roof will need to have them removed. You should contact your cable or satellite provider ahead of time to make arrangements to have the dish re-installed after the installation is complete.
Avoid Letting Pets Or Children in the Yard
As we mentioned before your home will become a work zone during the roof replacement process making it extremely unsafe for both children and pets. Talk with your kids beforehand to explain that certain areas of the home and the entire yard will be off-limits until the work has been completed.
Give Your Neighbors a Heads Up
Since a roof replacement can cause a bit of disturbance to your neighbors in terms of noise we recommend you let your neighbors know about the planned work. Give them an anticipated timeline for the duration of the work so they will be aware of what is going on and when.
Contact Us To Schedule a Roof Replacement Today
Our team will help you choose the color you want, the roofing material that works right for you, and make sure your ventilation and insulation are correct for the roof and for your home. Our trained professionals will take good care of your home and will treat your house as if it is their own. We treat every customer like family and that is the #UnifiedFamily guarantee! Contact us today to schedule an appointment for your roof by calling (888) 631-2131.