Did you know insulation is one of the most effective and cost-effective ways to make your home more comfortable and more energy-efficient. Plus, adding new insulation to your home is a project that can be completed all year round.
While some people attempt to install new insulation as a DIY home project, this is something best left to the professionals. While our team will do all of the hard work, there are some things homeowners can do to make the insulation process more seamless.
To learn more about how to prepare for the installation of new insulation, keep reading.
Ensure There is a Clear Pathway to the Installation Site
When we arrive at your home to install your new insulation, our trained installers will remove the old insulation if needed, prep the area, install your new insulation, and then clean and dispose of all waste.

In order to do their job efficiently, they need to have easy access to the installation site. This is especially important since the work is often being done in your attic. Make sure the doorway is clear, both inside and outside, and that there is nothing on your steps that could either block their pathway or cause them to trip.
Clean Up the Space
Cleaning up the actual space that you're having new insulation installed in is another important step. If there is furniture in the room, move it away from the walls, and clear out any excess items that are easily removable during the insulation. It's important that you clear out as much as you can to make the process go more smoothly. If you don't have a space to store attic items, you should make sure everything is packed neatly into bins which will not only make it easy for installers to move around but will also protect your belongings.
Ventilate Your Attic
If you are installing insulation in your attic, it's important that you ensure your roof is ventilated to allow for any built-up heat to easily dissolve. Without proper ventilation, moisture can build up which can result in problems like mold, mildew, wood rot, structural issues, and more down the line. If ventilation is a concern in your home, we can work with you to assist you with ventilating your attic.
Ensure There Are No Air Leaks
After ventilating your attic, it's important to ensure there are no air leaks in your attic. Even with the highest quality insulation, you still need to be concerned about air leaks. Spots where air flows past it, the overall impact is lessened. These spots can include recessed lighting, pipes, ducts, chimney shafts, rim joists, or attic access points. If you find any air leaks, one course of action is to use spray foam and caulk to cover them up. We can also help you tackle this issue as a part of the insulation installation.
Check for Water Leaks
Water leakage in your attic is another issue that can pose a huge problem for your insulation. Water leaks can lead to mold, mildew and block the heat flow, which negates the benefits of having insulation in the first place. You can search for water leaks by keeping an eye out for any stains, damp spaces or shingles that may be missing in your attic.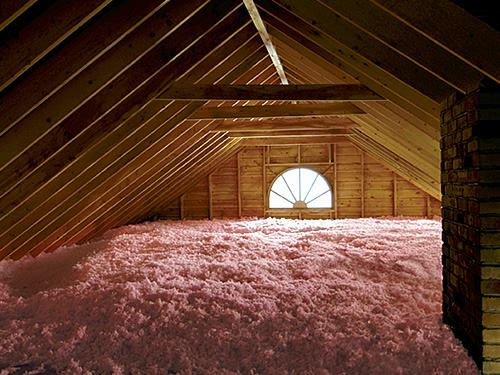 Contact Us Today For New Attic Insulation
When it comes to choosing insulation, we will walk you through your options and help you make the best decision for your home. We can also help you determine the recommended R-Values for your home to ensure you are meeting the recommended R-Values for your area.
Our trained professionals will take good care of your home treating it as though it were their own. We treat every customer like family – this is the #UnifiedFamily guarantee! Contact us today to schedule an appointment for your next attic insulation installation by calling (888) 631-2131.