What is a Dormer Window?
Dormer windows project vertically from sloped roofs rather than being set directly into them and feature a little roof above the window. A common use of this type of window is to bring light into attics, typically after the attic has been converted into a living space.
These windows are a popular architectural feature that can add both visual appeal and functionality to a home. When choosing dormer windows for your home, there are several factors to consider, including the size, style, and placement of the windows.
It is common for Dormer windows to be seen on Colonial, Greek Revival, and cottage-style homes, but they can be found on almost any style of house with a sloped roof.
How to Pick Windows for a Dormer
1) One of the first things to consider when selecting dormer windows is the size of the windows. Dormer windows come in various sizes, from small, narrow windows to large, expansive ones. The size of the window will depend on the size of the room or space where the window will be installed and your personal preferences.
2) The placement of dormer windows is also an important consideration. Dormer windows can be placed on the front, side, or back of a home, depending on the design and layout of the house. The placement of the window can affect the amount of natural light that enters the home and the overall visual appeal of the home.
3) Another critical factor to consider when choosing dormer windows is the style of the window. Dormer windows come in a variety of styles, including traditional, contemporary, and modern. The window style should complement the overall design of your home and should also keep with the neighborhood's architectural style.
Common Dormer Window Types
The roof on the dormer determines the window's style. There are several common styles of dormer windows found in today's homes:
Gable Dormer: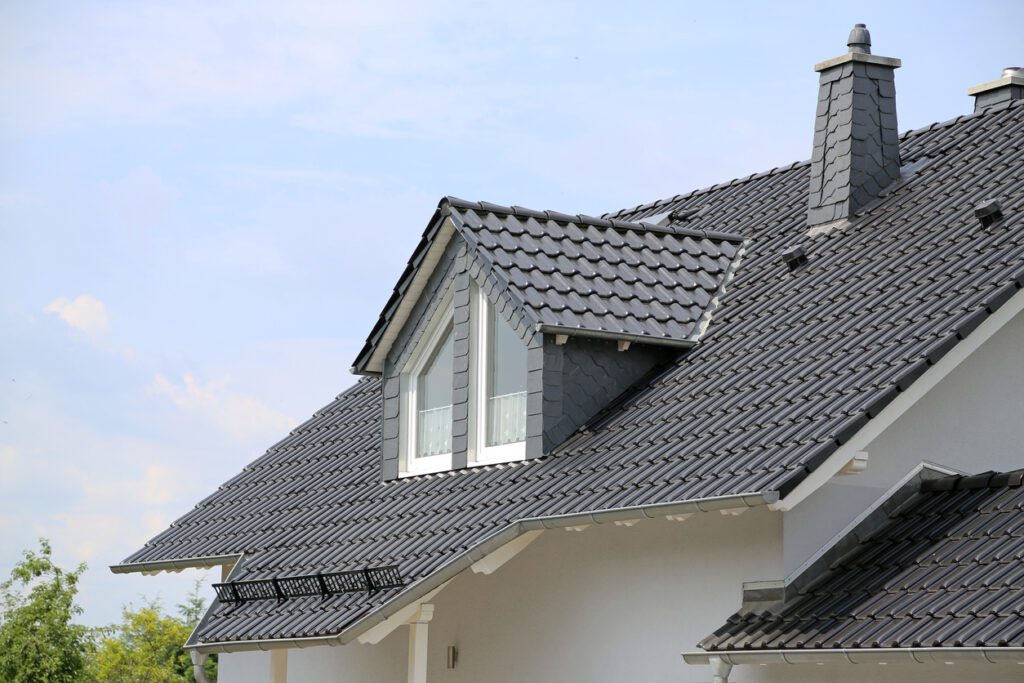 This is the most common type of dormer window, with a triangular roof with equal slopes. In a loft space, a gable dormer can give you additional light and space that is hidden from view from the outside.
The ideal window type for gabled dormers is an awning or specialty window because of the structure's shape.
Options include:
Andersen's 400 series windows
Hip Roof Dormer: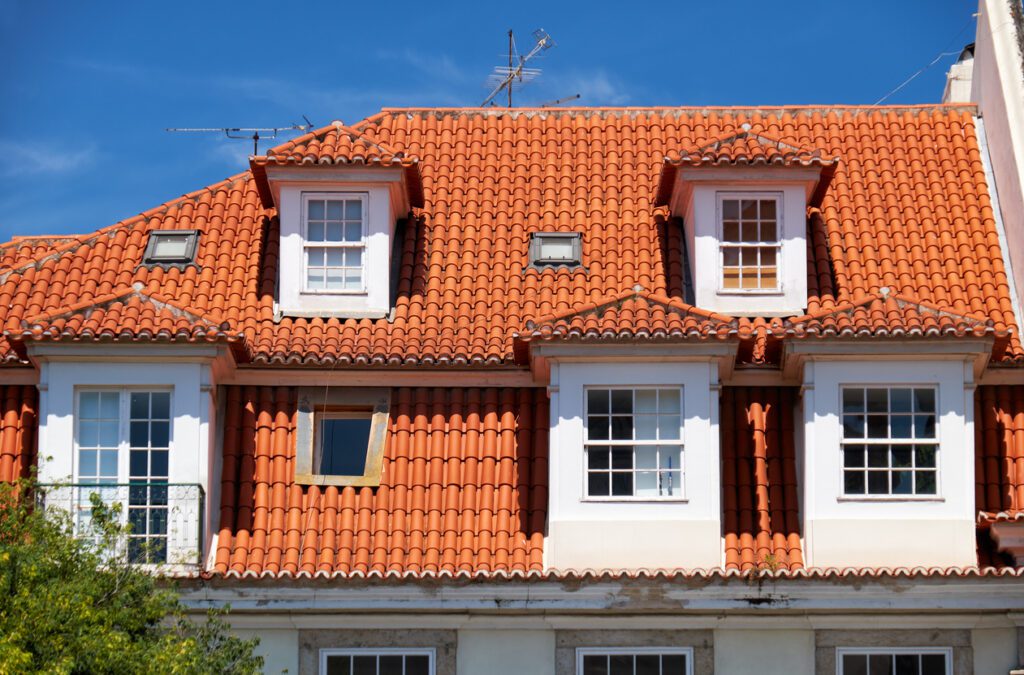 Dormers with hip roofs have three roof planes, one on each side and another parallel to the front. At the roof's peak, all three planes slope upward and meet. A hip roof dormer may take up some space inside the room but provides greater protection against high winds.
The ideal window type for Hip Roof Dormers is double-hung windows. Options include:
Pella's Lifestyle and 250 series windows
Ideal Window PerfectFit windows
Shed Dormer: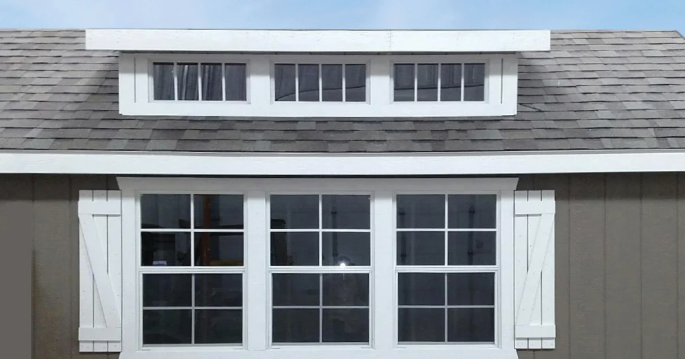 Sometimes a shed dormer seems almost horizontal due to its slight pitch. However, it is necessary to have some slope so that water can run off. Despite the steeper angle of the main roof, this dormer only has one roof plane.
The ideal window type for shed dormers is casement and double-hung windows.
Casement window options include:
Pella's Lifestyle and Impervia series windows
Andersen 100 and 400 series windows
Eyebrow Dormer: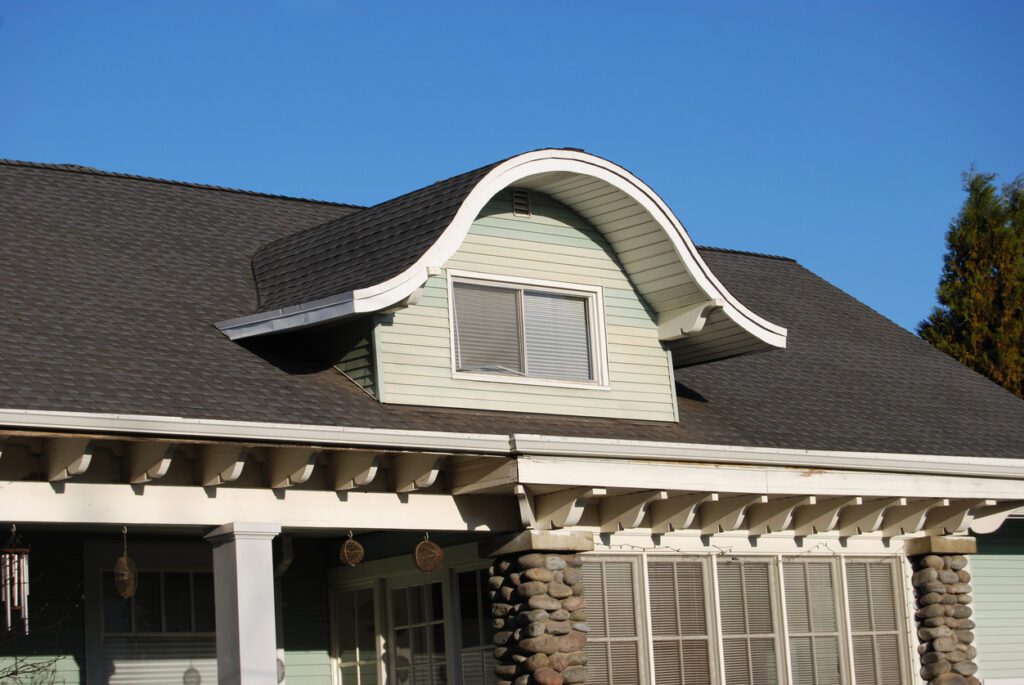 An eyebrow dormer can appear as if an eye is peering behind a hooded lid. Unlike flat roof planes, eyebrow dormers feature a gently curved roof wave that extends entirely over the windows. Dormers like this have no sides and are characterized by their curved roofs.
Depending on your home's architecture and the needs of your home, the ideal window type for eyebrow dormers can vary from house to house. A custom-designed or curved window is often the best choice for this dormer style.
Options are…limitless! Unified is an authorized and certified seller of Pella, Andersen, and Ideal Windows. Contact us when you're ready to design your custom window.
Uncommon Dormer Window Types:
Bonnet Dormer:
In a bonnet dormer, the roof curves, and vertical walls flank the window on either side. Arch-top windows are commonly used in bonnet dormers so the top matches the roof's arch.
Wall Dormer:
Dormers with this style of roof can feature any of the above roof types, but their defining feature is that the front of the dormer is an extension of the exterior wall below. As opposed to setting back in the middle, the siding on the central part of the house extends right up into the dormer, making its front flush with its front.
Blind Dormer:
In contrast to typical dormer windows, blind (or "false") dormers are only for appearances. Blind dormers look the same from the street as ordinary dormers, except they attach to the roof instead of opening into the interior of the house. In the interior, the dormer is virtually invisible.
Begin the Dormer Window Installation Process Today!
Dormer windows can add visual appeal and functionality to any home. When selecting dormer windows for your home, it is important to work with a professional like our Unified Home Remodeling experts, who have experience installing and designing dormer windows.
Founded in 1989, Unified's been selling and installing windows for New York homeowners since our inception. Our aim is to create a unique and better window replacement experience for homeowners throughout Long Island, Staten Island, and Putnam and Westchester counties, including all of Brooklyn and Queens.
Through our commitment to excellence and client loyalty, we've grown to five window showrooms in Baldwin, Huntington, Patchogue, Brooklyn, and Scarsdale. Contact us at (888) 631-2131 or request a free estimate on your replacement home windows, whatever the type. You can count on us to provide the best service and products to help you have the home of your dreams.