A buying guide for homeowners
Masonry work can offer great improvements to the appearance of your home and increase its value tremendously. Masonry work is a popular trend and more homeowners are looking to add masonry work to their home than ever before.
When it comes to masonry work, there are many options available to homeowners which can make it difficult to decide what work you want to get done. This guide will help you better understand your options and make a more informed and educated decision when it comes to choosing new masonry work for your home. 
As always, the home improvement experts at Unified Home Remodeling are always available to review your options, discuss your next project and help you make the right decisions for your home while meeting your individual needs.
Materials Used in Masonry
Masonry work involves using paving stones, also known as pavers. These are made of either natural stone, brick or concrete. When it comes to masonry projects for your home, you have the option to choose from different materials. Below we'll review each one, the benefits of each, what shape is ideal for your project, and how they can be used:
Stone
Natural Stone is one of the most common types of paving stones used by homeowners. Stone pavers are extremely weather resistant and strong. These pavers can be made of any type of stone, but flagstone tends to be most popular among homeowners.
Flagstone pavers include sandstone, quartzite, bluestone, limestone, travertine, basalt, and slate. Bluestone is commonly used in New York. It is dense, tough, includes a non-slip surface and holds up to the harsh Northeastern winters lasting longer than other types of stone. Limestone pavers are another common stone used in New York, they are strong, weather-resistant, good for humid climates, and will hold up to wear and tear making them long-lasting.
Stone pavers are absorbent and ideal for use outside. This can include your yard or the façade of your home. Natural stone is more expensive than brick or concrete pavers, but the price is worth the look it will give your home.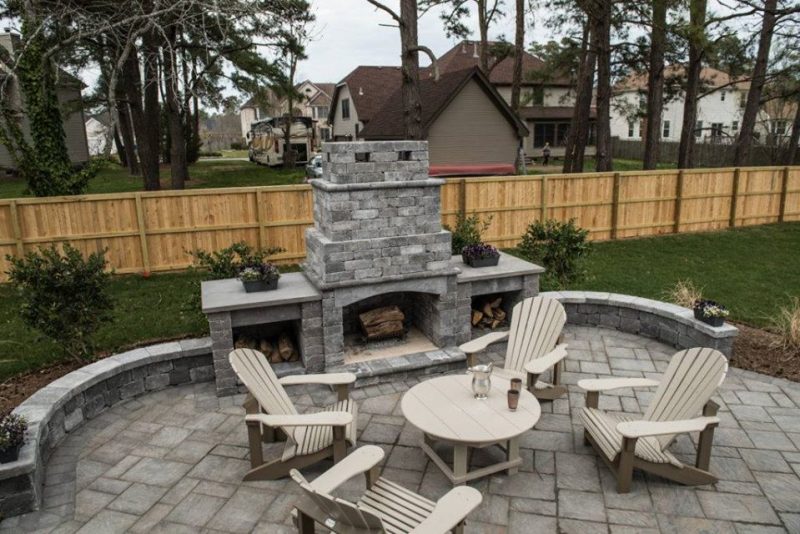 Brick
Brick pavers tend to be made of clay and dyed to look like brick. This makes them retain their color better than concrete when exposed to the elements. It can be made in a variety of brick colors and textures. Brick pavers are very strong and resistant to stains, and require less maintenance than concrete pavers. Bricks can be laid in a variety of patterns and also be laid with small gaps so water can easily drain through to create a permeable paver system.
Brick pavers are ideal for any part of your home and have a timeless look to them. Aged brick gives off a distinct style and feel even when cracked or chipped.
Concrete
Concrete pavers are made of molded cement and aggregate. It is available in a variety of colors and styles and can be made with interlocking patterns. The can be dyed and designed to form any style you desire or imagine. Concrete pavers are very strong and durable and can be made as interlocking pavers with small gaps to allow water to drain through them to the ground below. Concrete is also less expensive than both brick and stone.
Concrete pavers are ideal for walkways, patios, pool decks, outdoor dining areas, and driveways. These pavers are easy to install and require more maintenance than both brick and stone.
Before purchasing concrete pavers, make sure to learn more about the different types of coating that are available to protect them. This will help ensure your pavers look great and last for years to come.
Brands We Recommend
At Unified we work with multiple masonry and paver brands to provide our customers with any option they want. Generally, we recommend our customers to the following brands:
Cambridge
Cambridge Paving stones offers homeowners options for patios, pool areas, walkways, driveways, landscaping walls, and other outdoor living areas. Homeowners also have the option of getting their Cambridge Paving stones with Armor Tec.
Nicolock
Nicolock offers homeowners paving stones, paving slabs, retaining walls, accent pieces and more all of which will help turn your backyard into the outdoor space you're dreaming of. Their stone are made of vibrant color that will last for years.
Cultured Stone
Cultured Stone manufactures stone veneers that are perfect for your next home masonry project. Their products are ideal for creating retaining walls, fireplaces, driveways, walkways, building facades and more.
Eldorado Stone
Eldorado Stone manufactures stone veneers, brick, architectural stones, and other products to complete your outdoor living space. They also sell premade fireplace bowls and fireplace surrounds.
Techno-Bloc
Techno-Block creates landscape stones for homeowners that are functional, durable, and stylish. They offer everything from patio slabs, pavers, edging stones, retaining walls, stone steps, fire pits, to outdoor kitchens, and more.
Boral
Boral offers high-quality premium solutions for stone and brick pavers to create the outdoor living space of your dreams.
Contact Us Today For Your Next Masonry Project
Shopping for new masonry for your home doesn't have to be stressful. Our team is the leading masonry contractor in New York and our team of experts will work with you to make sure you choose the right masonry for your next project.
Our team will assist you by walking you through every detail you need to consider and find the right masonry products that meet your style, budget, and design preferences. Contact us today and receive a Free Estimate, and we will help you select new pavers for your next home improvement project. Call us today at (888) 631-2131 or contact us online.