Improving your home's curb appeal comes with big rewards. Not only can it transform a tired looking home, but it can drastically increase your home's value. These exterior home renovations can range from small improvements such as improving your landscaping and outdoor lighting to large renovations that will improve the quality of your home.
If you're looking to improve curb appeal we recommend starting with smaller projects that you can do on your own and work up towards the bigger ones. This way the entirety of the exterior of your home will get a full makeover. Leave the tough stuff like roofing, siding, windows, and doors to the professionals, but the rest – roll up your sleeves and get to work!
Here's some of our favorite exterior home renovations:
Spruce Up the Front Door
The first thing you should do is evaluate whether you need a new front door for your home. Your front door is a vital part of the "landscape" of the front of your home. It is often the thing that first catches a person's attention and if it's in poor shape, it will stand out like a sore thumb.
If your front door needs replacing you have an opportunity to get a different style door with glass panels, or a door made of different materials than you previously had. There are many options available to homeowners when it comes to their front door and we are happy to walk you through your options and find the best door for your home.
If your front door is still in good condition, take some time to clean the door and get rid of any build up and dirt from the door and entry area. Polish the fixtures, replace the overhead door light bulbs if needed, add some potted plants near the entryway, replace old worn out house numbers, and add a wreath to the door. You might even consider painting your door or adding a contrasting molding to make the entrance of your home really "pop". All of these smaller changes will have a big impact.
Upgrade Your Walkway
The walkway leading up to your front door is another important area for improvement. If your current walkway is neglected, cracked, and worn it will automatically detract from the appearance of your home. If you don't have a walkway or your current one is beyond your own ability to repair it, it's time to have a new masonry walkway installed. If you have a concrete walkway you might want to consider replacing it with a contoured brick or stone walkway instead.
Otherwise, we recommend removing weeds that have sprouted in the cracks, adding line landscaping lighting along the walkway, and planting a flower border.
Replace Those Old Windows
Old windows are an eyesore, but new windows quickly become a focal point of the home. Installing new windows has benefits that extend beyond appearance, as they also help to improve energy efficiency in your home and keep it warmer in the winter and cooler in the summer!
If it's not time to replace your current windows you should take some time to give them a thorough cleaning inside and out. You may also want to consider installing window shutters to accent your home.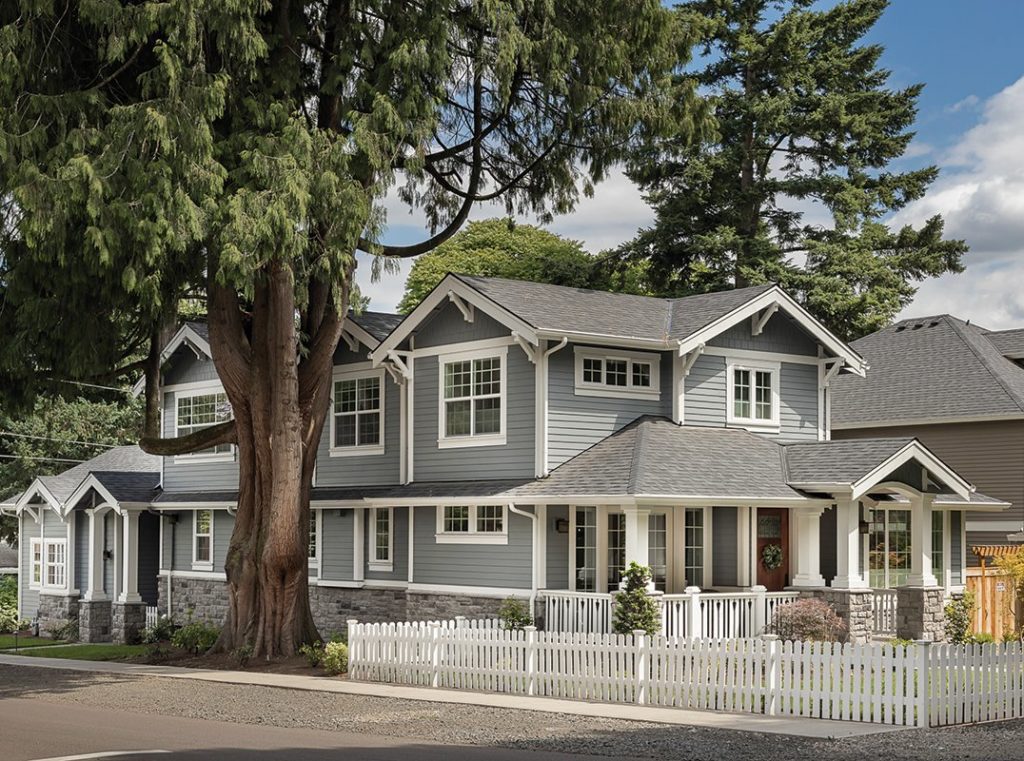 Repaint or Re-Side Your Home
If the exterior of your home isn't in good condition, much of your efforts to improve the exterior of your home will be wasted. Your home's siding should be clean, free of cracks and damaged, and in overall good condition. If your home is painted it should be free of chips, cracks, and damage.
If this isn't the case for your home and the siding or paint is beyond repair it's time to replace the siding on your home or have your home repainted.
Additional Big Impact Improvements
While you can do a lot for your home's curb appeal in a single weekend, at some point you may want to call in the pros or invest in bigger projects. Here are a few big ideas that yield big results:
Repair and refinish worn porch railings
Install a porch if you don't have one
Replace old gutters and downspouts
Invest in a new roof
Smaller DIY Exterior Home Improvements to Consider
Cleaning up your landscaping
Planting fresh flowers, trees or bushes
Clean the gutters and downspouts
Power wash your home's exterior
Contact Us Today For All Your Exterior Home Renovations!
Exterior home renovations for your home shouldn't be a stressful experience. Our team is the leading installer of doors, windows, siding, roofs, masonry projects, and more much! Our team of experts will work with you on your next home improvement project.
Contact us today and receive a FREE Consultation from one of our home remodeling experts, and we will help you with any of the exterior renovation plants you have for your home. Call us today at (888) 631-2131 or contact us online.