If it's time to replace the windows in your home, it's important that you understand how to choose the right ones. New windows can do so much for your home. They will make your home's value increase as well as making your home more energy-efficient, easier to maintain, and up-to-code.
Choosing the right replacement windows for your home is a decision that should not be taken lightly. Homeowners need to take into consideration a number of important details about the windows. The type of material the windows are made out of, the style of window, the U-Factor and the glass options are just a few of the details around choosing the perfect window for your home.
Typically, installing replacement windows means you won't disturb the frame of your existing window, however, if your frame is old, cracked, warped, or rotted you should consider replacing both the window and frame to repair the structure and overall strength of your home.
So how do you know which windows are right for your home? Here are some helpful tips you can rely on when choosing new windows for your home.
Understanding Window Styles
There are a variety of window styles homeowners may choose from. Here are some brief explanations of the different types of windows commonly seen in homes.
Single or Double Hung Windows
These windows are the most common types of windows found in homes. A single-hung window has one sash of glass that is stationary and one that is operational. The operational sash opens from the bottom and can only slide up, while the stationary sash remains in place at the upper half of the window.
A double-hung window has two operational sashes that can slide open from both the top and bottom. The sashes usually open easily for easy cleaning and have locks on both sashes to keep the frame secure.
Picture Windows
A picture window is a large window that does not open. The purpose of a picture window is to provide a clear view of the outdoors.
Casement Windows
This type of window opens by swinging outward and typically requires the use of a lever or a similar mechanism to operate the window.
Bay & Bow Windows
Bay windows are the big box-like windows you typically see on the front of homes. They are made up of three windows and the center window is usually non-operational (like a picture window) while the two side windows are typically double-hung windows. While this is the typical layout of a bay window, you are able to decide what type of windows you want in each frame. The design is completely up to you and your preference.
Bow windows are similar but are made of four or more casement windows joined together creating a more curved look. These windows are also typically seen on the front of homes. You are able to choose which way you would like the windows to open out (left or right), while the middle window (if there is a middle window) usually remains non-operational.
Awning Windows
Awning windows have a hinge at the top of the window and open by pushing the window outwards from the bottom. They get their name because they look similar to an awning when opened.
Slider Windows
Slider windows are exactly as they sound – they are windows that slide open from side to side.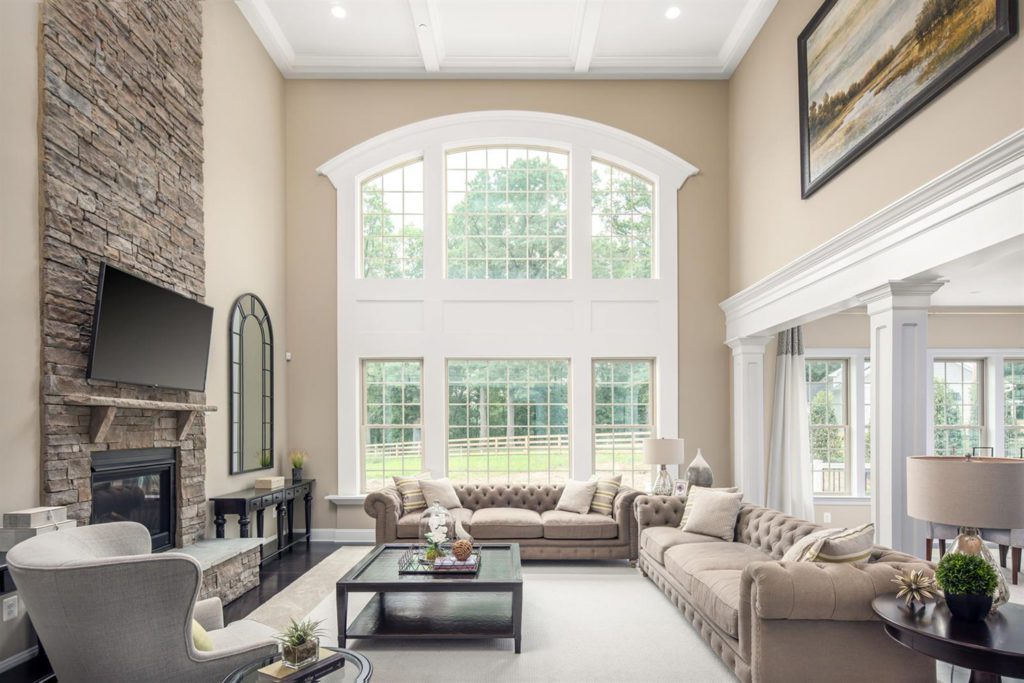 Custom Made Windows
Specialty windows come in a variety of shapes and sizes custom-made to fit where you want them. This includes arches, curves, shaped windows, and more. These windows are usually made to fill up space above, below, or to the sides of windows to give the window a larger look. They are typically picture or designed glass windows. You may also see shaped windows like circular, triangle, or octagon windows as stand-alone windows to give the home a designer look.
Basement Windows
Basement windows help ventilate and provide light in the basement. There are typically two types of basement windows. A hopper window and a slider window. A hopper window is essentially a small reverse awning window. It opens from the top with hinges and drops down. You can also attach a dryer vent if you are placing this window near a dryer. A slider window is a small slider window that will fit in small places with your choice of one or two operational sliding frames.
Window Frame Material Options
Choosing the right frame material is an important step when replacing the windows in your home as it functions as the structure for your window. When choosing the material, you should consider what it will take to maintain the frame and the style you are looking to achieve. Generally, homeowners choose from either vinyl frames or wood frames. Vinyl tends to be easier to maintain, is resistant to termite damage and won't rot, warp, or peel over time.
Wood, on the other hand, will require ongoing maintenance throughout the years which might include staining or painting, as well as other upkeep. Wood is also susceptible to termite damage and can be greatly affected by weather conditions which can lead to rotting or warping.
Finally, another frame option homeowners can choose is fiberglass. This type of frame has the appearance of painted wood, but due to fiberglass composite materials are more durable and can withstand extreme weather conditions, and are also highly energy-efficient.
Window Glass Options
The glass is another important aspect of your new windows. Here are the most common types of glass homeowners tend to have in their home and the differences between them.
Dual Pane Glass
Most replacement windows are made of dual-pane glass which really just means there are two panes of glass. One pane of glass makes contact with the outside of the home, then there is a space/gap (usually filled with some sort of gas for insulation), and finally the piece of glass that makes contact with the inside of your home. Dual-pane glass is considered the standard option and offers homeowners basic thermal performance from their windows. However, if you have Argon or Krypton gas between the panes of glass the thermal performance and insulation increases significantly.
Triple Pane Glass
Triple pane glass is another common glass type chosen by homeowners and is considered an upgrade to double pane glass because it provides more energy efficiency and sound-blocking capability. This glass option adds a third layer of glass in the frame. The extra piece of glass is placed between the other two creating another layer of glass that blocks out noise and provides better insulation and thermal performance.
Low-E Glass
Low-E, or low-emissivity, glass provides more energy performance and comfort than regular glass. There is a thin layer of coating on the glass that minimizes the amount of infrared and ultraviolet light that comes through the glass into your home. This coating reflects heat in the summer months to keep your home cooler and helps keep heat inside in the winter to keep your home warmer.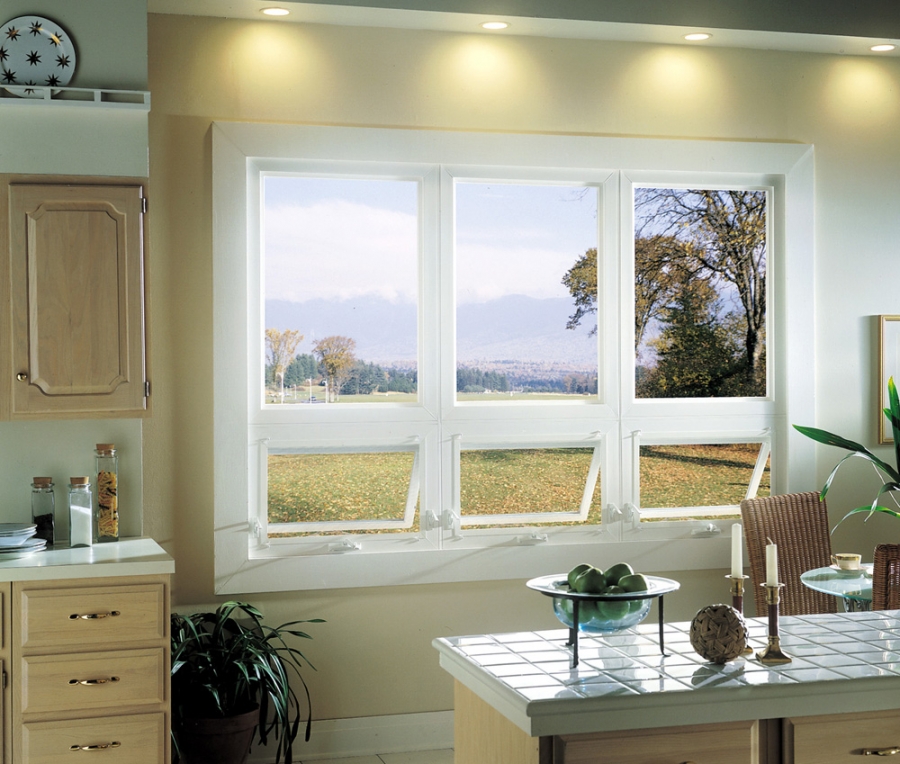 Other Factors to Consider
Another important factor homeowners should understand regarding windows choices is the U-Factor or the U-Value. This factor shows you how energy efficient a window is. It also tells you the insulation value of the window. There is a number that ranges from .20 to 1.20 which should be on the window as a sticker. If there is no sticker on the window or the U-Factor is not there, you know the window is not energy efficient. The lower the number the better the window will be at keeping heat inside your home. Next time you shop, look for the sticker.
Window Brands We Recommend
At Unified we work with multiple window brands for your new or replacement window installations. Depending on the style and type of window you are looking for we will recommend the best option for you. Generally, we recommend our customers to:
Ideal Windows
Ideal Windows offer customers a variety of options when it comes to replacement windows for their home. All windows from this brand are made from PVC vinyl which is great for insulating, is weather-resistant and requires little to no maintenance. With various options and styles, the look is up to you.
Pella & Andersen Windows
Pella & Andersen Windows are known for their craftsmanship and high-status window offerings in a variety of shapes, styles, and designs. They offer windows in wood, vinyl, and fiberglass.
Contact Us Today For Window Installations and Replacements
Shopping for replacement windows doesn't have to be complicated. Our team will assist you by walking you through every detail and finding a window that meets your preferences for energy efficiency, style, and design. Our window installation experts are current with new window trends and know-how to help you design the home of your dreams.
Contact us today for your Free Estimate, and we will help you build a window package that fits your needs and wants. Call us today at (888) 631-2131 or contact us online.