Unified will help you choose your ideal carport for your home. From design to installation Unified does it all leaving you with nothing to worry about but the beautiful end product. We offer carports in a variety of styles and colors to meet your specific design needs and preferences. To help you determine what type of carport you may want, we've put together a helpful guide to get you started.
What is a Carport?
A carport is a type of garage with a roof that can be attached or detached from your home. Carports can be enclosed or open-sided depending on the style you desire. Carports are ideal for homes that do not have a garage already built to protect cars and other vehicles from rain, snow, or any other element that may damage the homeowner's vehicle.
How Will You Use Your Carport?
It's likely that you plan to use your carport to protect your car or truck, however, some homeowners may also want to use it to protect a motorcycle, ATV, lawn equipment or to store other items they do not want in their home.
Once you decide what you plan to protect or keep in your carport will help you decide on the size carport you want to have installed in your home. Be sure that the size carport you request or need will fit what you are trying to keep inside of it. Our experts will help you measure and make sure the size of your carport is perfect for what you plan to keep inside of it.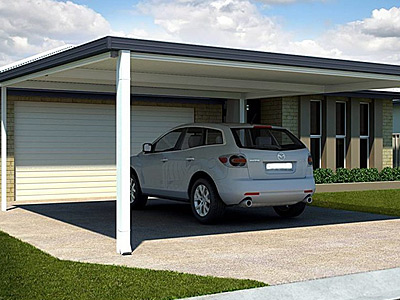 What Type of Carport Do You Want?
Once you've decided on how you plan to use your new carport, you can decide on what type of carport you want to install. Most carports will be an extension of the home or a separate stand-alone structure. You will also have to choose what material you would like the carport to be made out of as well as if the carport will be enclosed or open-sided. Materials that are commonly used to build carports include metal, wood, and vinyl. Another design aspect you will have to consider is the type of roof you are going to put on your carport. Carports typically have either a flat roof or an arched roof with gutters attached.
Where Do You Want to Have it Installed?
Determining where you want your carport to be installed and on top of what material is something to consider. While a carport can be installed directly into the ground, you can also have it installed on top of concrete.
If you already have concrete by your home where you want the structure to be you can build it onto the existing concrete. You can also have concrete poured prior to the installation of your carport or have pavers, bricks, or other materials placed as the surface of your carport. If you opt to have the carport installed into grass or gravel this will be done by securing the structure with anchors for added security.
Know Your Desired Dimensions.
It's important to know the size carport you want to have installed in your home. Not only does this refer to the width and length of the space you want, but also the height. The standard height for carports is 6 feet, however, depending on the size of your vehicle you may need to opt for a higher carport. For example, if you want to store a recreational vehicle underneath, or have a boat or trailer attached to your vehicle you will need the carport to be higher than 6 feet.
Our staff will assist you in determining what size carport will best suit your needs. It's also important to consider the dimensions of the surface or foundation work with the size carport you plan to have installed. The surface of the carport should always be a little bigger than the carport itself.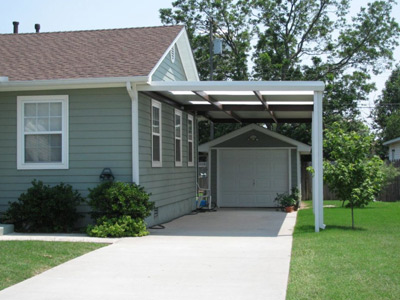 Choose the Right Roof Style.
You have the option of choosing from various roof styles for your carport. A vertical roof is ideal because it can help your carport get rid of ice, snow, water, and debris more easily. Another option similar is a boxed eave style where the panels run horizontally instead of vertically.
We also offer a flat style roof. Depending on the severity of the weather in your area will determine what roof is best for your carport and home. Most homeowners will match the roof of their home to their carport to keep the aesthetic of their correct house and roof.
Consider the Weather.
The weather is an important factor to consider when choosing a new carport. If you live in an area with heavy snowfall, rain, or hail you need to choose a roof that will stand up to that type of weather. Additionally, if you have high winds you may want to consider keeping the carport enclosed to ensure your valuables stay dry and protected.
Think About the Future.
Now is the best time to consider your future plans. Even if you're a one-car household right now, you may add a second or even third car in the future. When choosing the size of your carport, considering future needs for car storage or equipment storage will help you better plan so you'll have property coverage for all of your vehicles in the future.
Contact Us Today For New Carport Installations!
Carports are great and functional additions to your home, and shopping for one shouldn't be a stressful experience. Our team is the leading carport installer in New York and our team of experts will work with you to make sure the right carport is installed for your home.
Contact us today and receive a FREE Consultation from one of our home remodeling experts, and we will help you select any carport you desire for your home. Call us today at (888) 631-2131 or contact us online.