You can expect to pay from $5,000 to $12,000 to replace the windows on an average home.
Estimating the cost of a window replacement project depends on many different factors, including window size, window shape, glass type, color, grid pattern, and decor. An expert window installer can look at your home, assess your current home's structure and be able to provide you with exact pricing.
At Unified Home Remodeling the price of a window replacement project will range based on what type of windows, grids, and other extra work you may need or choose to do. To help give you a better understanding of what a window replacement project will cost we've put together this blog that explains what impacts window pricing and some price ranges for some common windows.
| | | |
| --- | --- | --- |
| Average cost to replace windows on a house | | |
| ranges from | $5,000 | $12,000 |
Choose Your Window Size and Style
The type and size of the window you choose for your home will be the most important factor in determining cost. For example, a basic single-hung window costs less than a double-hung window, and both will cost less than a large bay window or picture window. There are also various glass and design options such as grids, headers, skirts, and more that could be associated with your window project.
Materials (Wood vs. Vinyl)
Wood windows tend to be the most expensive window material. This is due to the amount of labor it costs for manufacturers to build these windows. The most expensive wooden windows that are common to see in homes in New York are Andersen windows. Andersen windows tend to have a wooden core with a vinyl exterior.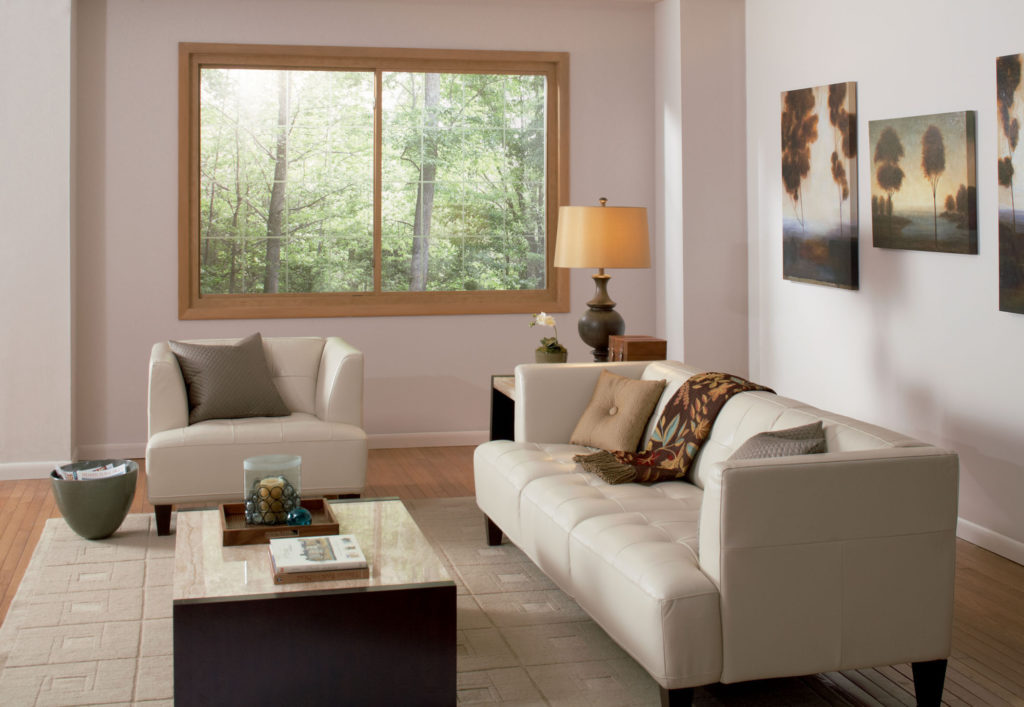 While wooden windows have a reputation of being more luxurious than vinyl windows, they tend to not function as well as a window made of 100% vinyl. Wooden windows often rot and warp from the inside out if they are not properly protected and sealed regularly from the outside elements like rain, hail, and snow. You will have to maintain wooden windows more than vinyl windows.
Vinyl windows are the most common and are also the most affordable type of window. Vinyl windows can come in many different styles, and designs, and can have both higher and lower quality options to fit anyone's budget. Vinyl windows will never rot or warp and tend to last much longer than wooden windows. A vinyl window could have a lifetime of over 30 years while a wooden window could rot and warp in as less as 5-10 years.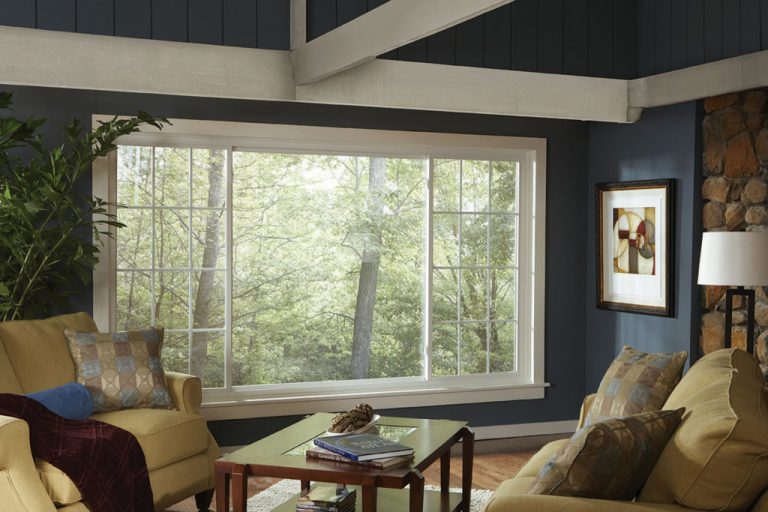 When looking at vinyl windows for your home be sure that the windows are made with thick glass and durable vinyl. The thinner the vinyl and glass options are the lower quality the window will be. Make sure to ask questions about the window's functionality like tilt latches to easily clean the window sashes and easy-to-use locksets and hardware.
If you are looking to replace the windows of your home the best option to choose is a pure vinyl made window with thick glass, thick vinyl with easy to clean features, and easy to lock hardware.
Additional Costs For Window Framing
When it comes time to replace your windows the cost may be affected if the wood framing of your window is rotted or warped. Most of the time you only have to replace the window itself which will not raise the price of the project. However, many homeowners wait too long to replace and reseal the openings. When you have windows that leak or contain a breeze that means the window is not properly sealed or installed. This leads to water, air, and other elements being able to enter the structure of your home.
When water, air, and other elements are able to enter your home structure this may lead to the wooden structure and frame of the opening the new replacement window will be put into to rot or warp. Once this has happened it will become necessary to replace the framing which will add to the cost of your window replacement project.
Building a new frame will cost more depending on how much of the frame is rotted, how big the frame is and how much material is needed to make the opening strong enough to hold the new replacement window. Unfortunately, this may be an added cost most contractors are unaware of until they take out your old windows. This is a cost that may be unwanted by homeowners but is necessary in order to properly install a replacement window.
Glass Options Cost
Homeowners purchasing replacement windows for their homes have three options when it comes to the glass inserted in the window frame- single, double, and triple pane. Single pane windows have one glass panel. Double-pane windows have two glass panels that are air-tight and separated by a layer of gas, and triple-pane windows have three panels of glass and two gas layers.
We recommend installing a double or triple pane window in your home. Even though single-pane windows are less expensive, they are not insulated and are made of inferior materials. Double pane and triple-pane windows provide more insulation making your home cooler in the summer and warmer in the winter. These options will also save you money on your energy bills each month because of their high insulation.
Another benefit of double and triple pane glass options is the krypton and argon gases that fill between the panes of glass. These gases are denser than air giving you better insulation while protecting your home and furniture from UV rays from the sun. Overall, if you are going to replace the windows on your home your best bet is to use vinyl triple pane or double pane windows.
Additional Labor, Material, & Feature Costs
There are some additional window features that can increase the price of a window. For example:
Capping of the Windows
Many contractors do not include capping in the pricing of their window replacements. We recommend you always cap the outside of your windows to prevent any infiltration into your home. Capping will include pieces of aluminum (usually to match the color of your window) wrapped around all sides of the window to prevent water, insects, and other elements from entering the structural frame of the window.
Grids on the Windows
There are many grid options available for windows of all shapes and sizes. Grids are the designs on the glass of the windows. The most common grid styles for windows in New York are colonial, queen ann, or diamond. These grid styles can come as contoured, flat, or inserted between the panes of glass. The more material that is used the more expensive the grid option. The most expensive grids are the ones placed inside the glass which give you the added benefit of never having to clean the grids of the windows.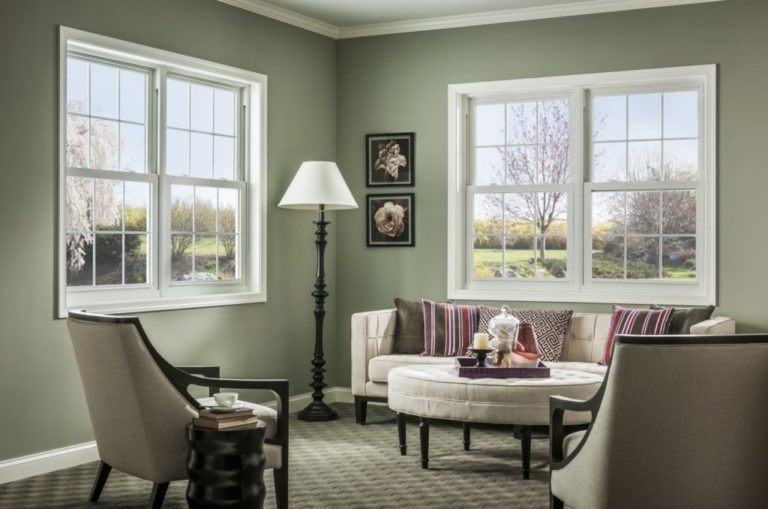 Changing the Color of the Windows (Non-White)
With more color options always available and the ongoing trend of black windows on homes in New York changing the color of your windows is usually an additional cost. Talk with your contractor and see what colors they have available and for what prices. Some contractors can even order two-tone color windows meaning the window is one color on the outside and a different color on the inside.
Large Size Windows
Measuring your windows is an important step in estimating your window replacement project. The bigger your windows are the more they are going to cost. Windows are measured in United Inches. This is the total amount of inches your window is all the way around. For example, a 30 x 30 window would be 60 united Inches or UI. Anything over 101 UI is usually an increased price for double-hung windows. Other windows may have increased charges at 86 UI, 98 UI, 110 UI, or 126 UI. For smaller windows like basement windows, anything over 50 UI is usually more expensive.
Type of Gas In-Between Glass (Argon or Krypton)
The type of gas between the glass on double and triple pane windows can increase the price of the unit. Krypton gas tends to be more expensive than argon gas. This is because krypton gas is denser and a better insulator and protector of UV light. Some windows will have an Argon/Krypton blend to make the window more affordable
Labor Charges
The cost of labor will vary depending on the company you choose to go with, the current rates in your areas, and how long the job will take. Some companies will offer a set price and others will charge by the hour. At Unified our labor costs are built into our pricing so Installation of the windows is always included!
Warranty
The quality and terms of the window's warranty will impact the price of the windows you purchase. The installation costs for lower quality windows tend to be lower. While premium quality window installations will be priced slightly higher.
At Unified we have the best window warranty in the industry. We will repair anything wrong with the window due to part or labor absolutely free within the first year. After the first year, there is only an $85 deductible for us to come out and replace/repair anything under warranty. That means no labor costs and no material costs for our customers. No other company in New York has this type of warranty. Unified takes pride in working with our customers after installation to make sure their home looks just as good as when we first finished the installation.
Contact Unified Home Remodeling Today For Your Window Replacement Project
Windows are a great home improvement investment that will boost your home's value and improve your home's curb appeal. They are a functional upgrade and are a great project that is sure to pay for itself in no time.
Our window installation experts are current with new window trends and know-how to help you design the home of your dreams. Contact us today for your Free Estimate, and we will help you build a window package that fits your needs, wants, and most importantly budget. Call us today at (888) 631-2131 or contact us online.