Entry doors are identified as the doors on the front, back, or side of the house side used to enter your home. These doors are a statement and the focal point of your home's exterior so it's important you choose a good one. They also provide security and insulation for your home, which means you always want to choose a quality door. While you may feel confident in your ability to install a door yourself, entry doors should be installed by a professional to ensure proper security and protection from the elements. There are many steps involved in installing exterior doors, and it's vital they are completed properly.
While the actual installation is complex, replacing a door with an experienced door installer is actually a simple process and a great way to upgrade your home. Whether you want to refresh your decor or simply seek to boost curb appeal, this blog will help you budget for the project by breaking down the potential costs associated with exterior door installations.
Average Cost of Door Installation by Material
The cost of an entry door installation will fluctuate depending on the style of door you choose. Keep in mind that the material of the door will impact the cost, but the installation costs typically don't vary by material.
Wood Doors
Wood is the classic choice for exterior doors and is usually the type of door most homeowners know of. However, wood doors do not offer great durability and they require regular maintenance to continue looking their best over the years. A pure wooden door should not be used for an exterior door. Wood will warp, rot and deteriorate over time from the outside weather. Wooden doors should only be used for interior doors.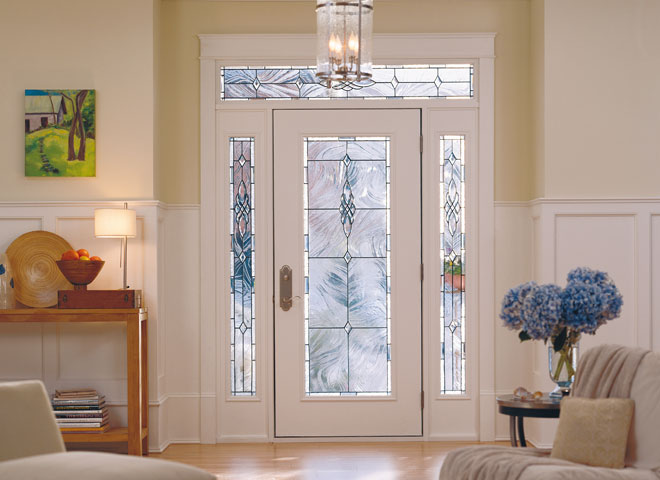 Fiberglass Doors
Fiberglass doors are a great alternative to traditional wooden doors. Not only are they easy to maintain but they offer excellent durability, insulation, and versatility in appearance and style. Fiberglass doors are made of reinforced plastic that is made to immediate a wood door look. If you want the wood door look without having the disadvantages and maintenance of a pure wooden door a fiberglass door is your best option. You can choose from various stains, wood grains, and much more. Fiberglass doors tend to be the most expensive material of doors you could buy. While they most certainly look the best, they may not last as long and are prone to scratches and dents over other door materials.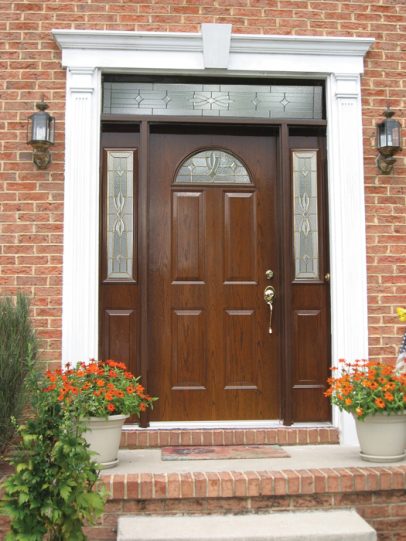 Steel Doors
Steel is the most popular choice for exterior doors since it provides superior security and weather resistance. A well-made steel door should never rot, warp or deteriorate. A well-made steel door will last a lifetime and will function the same on day 1 as it does 30 years from now. We recommend steel doors over fiberglass because it is a stronger material, the most weather-resistant, and the most secure out of all door materials. Steel doors are also available in wood grain textures but will not look real or as beautiful as fiberglass or wooden doors. Instead, you have the ability to choose from almost any color you could want and various designs with steel entry doors.
Example Pricing
At Unified we recommend homeowners choose fiberglass or steel doors. Your choice of material will have the greatest impact on the amount you will spend. Fiberglass is more expensive than steel however if you want a wood look to the door fiberglass is the best option for your home. 
A standard fiberglass door with no glass can range anywhere from $2,000 – $2,500. If you want glass in the door it can increase the price all the way up to $4,000 since some glass options are more expensive than others.
A steel door with no glass can range from $1,000 – $1,500, and depending on what glass options you want the price can increase from $1,500 to $3,000.
One of the most popular doors we install is the Steel Craftsman Door which has a square window on top and a Dentil shelf. The cost for this door is around $1,700.
Average Cost of Door Parts & Hardware
When it comes to budgeting for a new door for your home you also need to consider door parts and hardware. There is a large price range for these components depending on what you choose.
Here are the common door parts and hardware pieces you may need:
Knobs/Handles: $10 to $300 each
Hinges: $2 to $20 each
Door jamb: $100 and up
Door slab: $100 and up
Threshold: $50 each
Deadbolt lock: $15 to $300 depending on manufacturer and model
Other door components that may cost extra include capping, header, reframes, molding, kick plates, mail slots, knockers, sidelites, sills, and more. Almost any additional work or features you want on a door installation will cost extra with contractors. However, at Unified we include the price of installation and include standard hardware in all our pricing, making Unified Home Remodeling a must-use for your next entry door replacement project.
Contact Us Today for Door Replacement
Doors are a great home improvement investment that will boost your home's value and significantly improve curb appeal. Our door installation experts are current with new door trends and know-how to help you design the home of your dreams. Contact us today for your Free Estimate, and we will help you find a door that fits your needs, wants, and most importantly budget. Call us today at (888) 631-2131 or contact us online.