On average, you can expect to pay $600 to $2,300 for a new casement window.
Casement windows are a beautiful addition to any home that complements both modern and traditional home styles. Often referred to as crank windows, these windows are opened with a handle that cranks the supporting arm outward. Casement windows are commonly used in places where maximum ventilation is desired, such as a kitchen or bathroom, or where there is an obstruction like a kitchen sink to make opening and closing easier.
Our casement windows give you the flexibility to group them in stunning combinations—and the combinations are endless. With that in mind, it's important to consult a professional window contractor to ensure you're getting the right casement windows for your home.
This cost includes both materials and labor, but keep in mind that the cost can go up depending on the window brand, materials, and features you choose. Casement windows and double-hung windows are often more expensive than picture windows because of all the moving parts.
| | | |
| --- | --- | --- |
| Average cost of a casement window | | |
| ranges from | $600 | $2,300 |
Available Options for Replacement Casement Windows
Unified has been replacing and repairing windows for over 30 years, and windows remain our top-selling product with a lifetime warranty on labor and materials. All of our windows are custom-made to fit the unique opening in your home, ensuring windows function properly and there is no air leakage into (or out of) your home. We are a preferred window contractor for all our manufacturers, including leading brands like Andersen, Pella, and Ideal.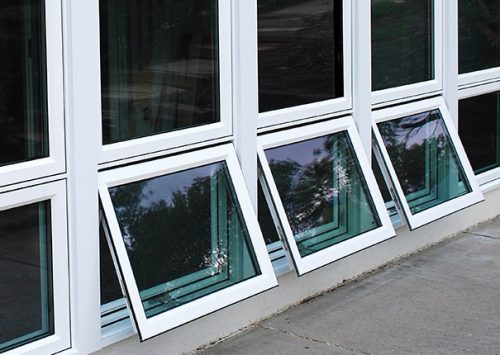 Sizes
Picking the right size and style is one of the most important choices to make when replacing or installing casement windows. There is no "standard size" for casement windows. While some casement window sizes might be more common than others, every window purchase is unique and can be custom-fit to your window size.
You should schedule a free consultation with our home remodeling experts by calling 888-631-2131 or filling out our online form for information on custom sizes and associated costs to install.
Type
Casement windows come in vented or fixed options. Vented casements mean they crank open from the right or the left while fixed casements don't open at all.
Materials
The cost for new windows will vary depending on the different window frame materials you choose. Our casement window frames are available in wood, vinyl, and composite materials.
Vinyl windows can be a practical choice. We have partnered with Ideal Windows, the No. 1 vinyl window in the industry, since 1989 and we're proud to be a certified dealer. Ideal casements add a comfortable look that feels right at home, while also providing maximum ventilation. The stylish beveled sash adds curb appeal while the Truth Encore® folding handle provides a contemporary sleek look that "nests" attractively behind your window treatments.
What do vinyl casement windows cost?
The average cost to install a vinyl casement window ranges from $600 to $1,000.
Aluminum windows are durable, lightweight, affordable, available in a variety of styles, and energy efficient, making them a great choice for any home.
What do aluminum casement windows cost?
The average cost to install a vinyl casement window ranges from $1,300 to $1,800.
Composite windows are made from a combination of wood, fiberglass, and vinyl. Get the best of both worlds: a low-maintenance exterior that encases a more efficient mix of wood and fiberglass interior. We offer Pella 250 Series windows that are rated #1 by homeowners for the highest quality.
What do composite casement windows cost?
The average cost to install a composite casement window ranges from $1,400 to $2,300.
Wood windows offer a natural beauty that gives your home a traditional appearance. They offer the best insulative value, but also require more regular maintenance than the other options. A well-built wood window will stand the test of time. The 400 Series casement windows are beautiful windows that enhance your view and allow you to create stunning combinations by grouping together with casement and/or awning windows. 400 series windows have a wood core with vinyl wrapped around it to protect the wood from getting damaged.
| | | |
| --- | --- | --- |
| Average cost to install a casement window made of | | |
| vinyl ranges from | $600 | $1,000 |
| aluminum ranges from | $1,300 | $1,800 |
| composite material ranges from | $1.400 | $2.300 |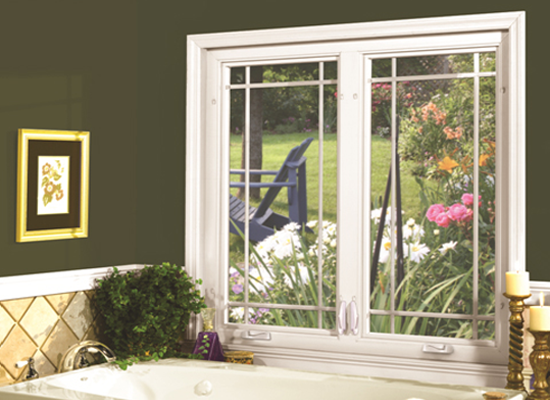 Brands
We are a preferred window contractor for some of the top-rated window brands, including Ideal, Andersen and Pella. Here is a breakdown of the average prices for the best casement windows by brand. Note these prices are just an average. Depending on what you order or need, the cost could be more or less.
| | |
| --- | --- |
| Brand | Price Per Window |
| Ideal Windows | $500-$800 |
| Andersen 100 Series | $900-$2,300 |
| Andersen 400 Series | $1,300-$2,500 |
| Pella 250 Series | $900-$2,300 |
| Pella Lifestyle | $1,500-$3,000 |
| Pella Impervia | $1,500-$2,500 |
Glass Types
A key component of any window is its glass—and the right glass, optimized for Long Island's unique climate, can help reduce the heating and cooling costs by slowing thermal transfer.
Energy-efficient dual-pane or triple-pane glass options with argon gas between window panes help slow the transfer of heat, keeping your home more comfortable year-round—through the heat of the summer and the cold of the winter. An insulating foam inside the frame is also available for increased energy efficiency.
You likely won't need to look much further than the window's glass to determine the unit's efficiency, as all windows in the Energy Star program will have a sticker on them with a rating from the National Fenestration Rating Council.
Contact us at (888) 631-2131 or visit www.unifiedhomeremodeling.com for a free estimate. Our professionals will help you build a replacement window package that maximizes style, energy efficiency, and performance specifically to fit your lifestyle. All purchases with Unified are completed with an expert installation and a lifetime of peace and happiness.