Egress windows range in price from $2,600 to $4,900 depending on size, materials, and whether they are above-ground or below-ground.
Adding an extra bedroom to your home instead of an empty basement or other unused space is a great way to increase its value. Before you start this renovation project, you'll need to satisfy a very critical safety requirement–a means of escape, otherwise called an egress, in case of a fire or other emergency.
Unified Home Remodeling is here to help you determine the right egress system for your home. We are a proud distributor of Pella, Anderson, and Ideal windows that you can use for your egress system in your basement. Schedule a free consultation with one of our home window experts by calling (888) 631-2131 or visiting www.unifiedhomeremodeling.com.
What is an egress window?
Egress windows look exactly like regular large windows but open fully to allow inhabitants to escape in an emergency. It is required in all finished basements before the space can be legally converted into a living area, and the dimensions must comply with International Residence Code (IRC) requirements and local building codes.
What is the minimum size for an egress window?
Building codes may vary by city or locality, but egress windows must meet the following IRC standards:
It must provide a clear, unobstructed opening of at least 5.7 square feet.
It must have a clear, unobstructed opening of at least 24 inches in height and 20 inches in width.
The clear opening cannot exceed 44 inches from the floor at its lowest point.
It must be capable of being opened without the use of any tools.
In cases where the window is below ground level, a window well must be installed.
The area outside the egress window's opening also must meet specific requirements. An egress window installed below ground level requires a window well, a rectangular or half-circle shield that protects against damage from rocks, dirt, and moisture. Wells below 44 inches below ground level must provide at least 9 square feet of space and be equipped with a ladder.
What affects the cost of egress window installation?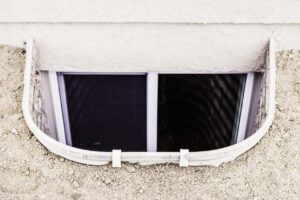 The size and materials used, and whether it is above-ground or below-ground. will all affect the cost of an egress window, 
A highly-skilled DIYer can install egress window systems with wells, but a professional contractor should be consulted. For a below-grade egress window to be installed, excavation is necessary to accommodate the large window well. Additionally, you will have to cut an opening through the foundation of the house into your basement, and an improper cut can lead to expensive repairs. Always consult a professional before cutting into your foundation, as you can cause severe damage to the structural integrity of your home. 
What types of egress windows are available?
With our expertise, we work with some of the most reputable window brands, including Andersen, Pella, and Ideal. Egress systems usually have casement windows that crank open past 90 degrees for an easy escape. A large slider window or double-hung window may also meet the requirements for an egress window system, but a casement window is always preferred. 
Contact us at (888) 631-2131 or visit www.unifiedhomeremodeling.com for a free estimate. Our professionals will help you build a window package that maximizes style, energy efficiency, and performance to fit your lifestyle. All purchases with Unified are completed with an expert installation and a lifetime of peace and happiness.