Nothing feels quite as satisfying as coming home to a house that is so clean it practically sparkles. Spring cleaning is a tradition that allows us to freshen up our home and get a head start on the often-hectic seasons of spring and summer. It can feel daunting – clean the gutters, wash the fence, and tend to the garden beds – but homeowners frequently overlook the one thing you likely use every day.
The front door.
It's true, the front door is likely one of the last things you think about when compiling a list of home improvement tasks. However, maintaining your entry door is important to extending their longevity, sustaining their energy efficiency, and keeping up the curb appeal of your home.
Clean and protect your front door for more curb appeal
Your front door is one of the first things your friends and family notice when they visit your home – and a dirty door doesn't leave the right first impression. Without a storm door, your front entry door is consistently exposed to the elements, so it doesn't take long for them to start looking dingy and dragging down your home's curb appeal. Whether you have a wood, steel, or fiberglass door, learning how to clean front doors properly can help keep your home looking its best.
Here's how to clean your front door:
Remove debris like crushed leaves, mud, or spider webs with a dry rag or soft brush.
Clean one part of your door at a time. For most door materials and hardware, you should use a solution of diluted dish soap or baby shampoo mixed with warm water.
Remove any remaining soap residue with a clean, damp cloth.
If your door has glass: Use a standard glass cleaner, make sure to wipe away the liquid before it drips on the rest of the door.
It's important to give your door a final rinse to remove any residual cleaning solution. Then, wipe off excess water to prevent water spots.
How to extend the life of your entry door
Maximizing the longevity of your home's doors will save you time and money, and it will improve the look of your home in the process. A quick annual inspection – and some easy DIY upkeep – will help extend their usefulness before you need to replace them.
Here are a few things to check to ensure your door lasts as long as possible:
Finish – How often you'll need to refinish your door will depend largely on the weather in your area and how protected your door is from the weather. How to refinish the door will vary based on the material. Steel and fiberglass doors simply need to be sanded, primed, and repainted; stained wood doors, though, require a lot more work.
Hairline cracks – While a door with large cracks needs to be replaced or professionally restored, sometimes wood doors develop hairline cracks due to the nature of these doors expanding and contracting with the weather. These can easily be filled (albeit temporarily) with wood putty.
Door sweeps – Similarly if your door sweep is damaged and missing pieces or gaps, it needs to be replaced. You can buy replacement strips and the new one must fit just like the old one to ensure a good seal without impeding the door motion.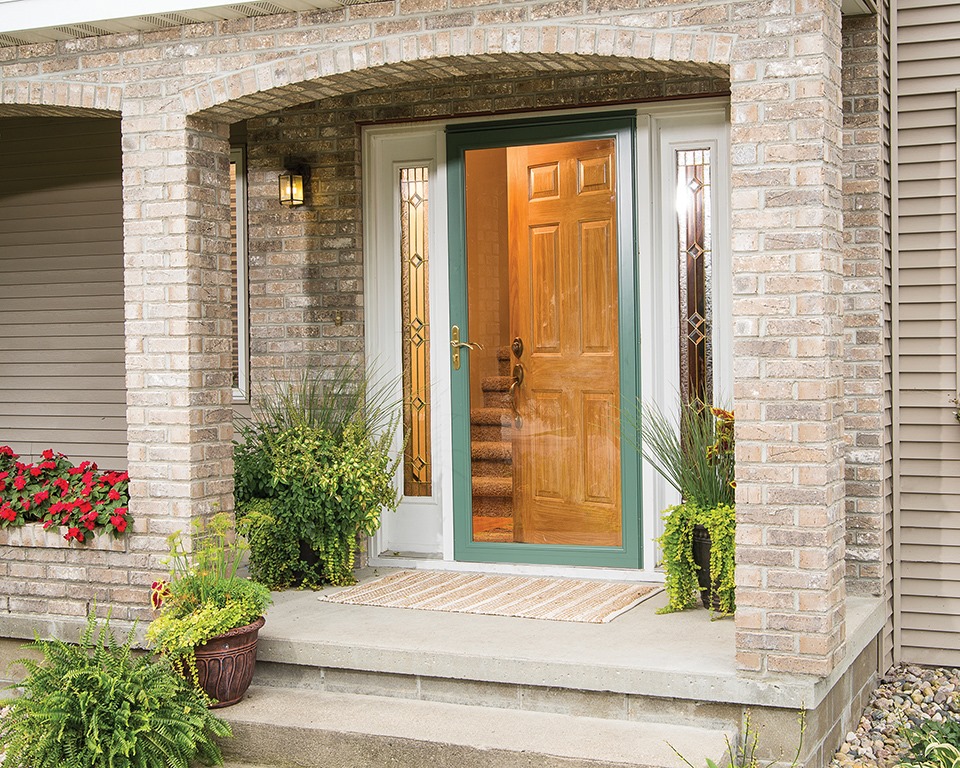 Maintain your door's energy efficiency
If you find yourself wondering where the draft is coming from, the answer could be your front door. Doors can lose significant heating and cooling each year due to the doors settling into the house, so it's worth giving your door a look to lower your energy bill.
Here are a few quick steps to protect your home from energy loss:
Replace weatherstripping – While your door can last decades, weatherstripping lasts only around one to five years. Weatherstripping that is ripped, torn, or discolored is unattractive and makes a door drafty.
Install a storm door – A storm door (especially one that easily converts from screens to windows), offers an extra layer of protection during harsh weather conditions. It also doubles as an energy-saver during the warmer months, as the screens help increase airflow in your home.
Add curtains to glass doors – Large windows on your door can significantly affect the temperature of your home in all seasons. Installing curtains or long drapes to either let in the sunlight or keep it out can help stabilize the temperature of your home during hot/cold seasons.
In the most extreme cases, consider installing a new front door. While this is only necessary if your current door is beyond repair, it's worth considering if you notice it is cracked, warped, rusted, or dented in multiple places, as well as if it has insect or water damage.
When the time comes, updating your doors in New York has never been easier. Unified installs custom fit doors for your home from manufacturers like Pella, HomeGuard, General Doors, Bonded, and Provia. Our doors are tailored to match the style you envision, offering you complete control to express your home's unique style.
Enhance any type of door with a variety of design, color, and hardware options. All our products are professionally installed by our home remodeling experts who have been in the industry for over 30 years. Give us a call at (888) 631-2131 or visit https://www.unifiedhomeremodeling.com/door-installation-new-york/ to shop our collection of entry doors, storm doors, and patio doors.