Harsh northeast winters undoubtedly cause significant wear and tear on the exterior of our homes. While vinyl siding is durable and resilient, it requires some routine care—and your annual spring cleaning is the perfect time to clean vinyl siding and keep it looking its best.
Like any other exterior product, vinyl siding can accumulate a host of dirt, grime, and stains on account of things like pollen, spider webs, bird and insect droppings, and salt from winter road maintenance or nearby bodies of water. Fortunately, cleaning siding is a relatively easy job and there are a variety of ways to remove stains.
3-Step Process to Clean Vinyl Siding
Start with a bucket of warm, soapy water. Vinyl siding cleans up rather nicely with nothing more than a homemade cleaner of general-purpose soap like Dawn Dish Soap and white vinegar in a bucket full of warm water, and a bit of elbow grease.
Divide your siding into manageable sections. Scrub each section using a soft-bristled brush and work from bottom to top to avoid streaking. For two-story homes, you'll be using a ladder, so find a friend or loved one to hold the ladder while you scrub.
Rinse each section before moving to a new one. Simply use your garden hose to rinse off any solution, dirt, or debris from the section you just cleaned (while it's still wet) before moving on to the next section to start the process over again.
Products & Tools
Soft-bristled brush or broom – You'll want a brush/broom with bristles fine enough to get debris from the siding without damaging your siding.
Soft cloths – Microfiber cloths won't scratch or chip the surface of your siding. Ensure you have plenty on hand because you'll likely go through quite a few.
General-purpose cleaner – That simple solution of dish soap and warm water will work wonders as a siding wash and it won't wear away the vinyl's selective coating
Bucket – You'll need a small bucket with a sturdy handle to take with you as you move around the exterior of your home
Garden hose – Use a hose to rinse off each section as you clean and make sure your hose is long enough for the water to reach the highest sections of your vinyl siding
Non-Abrasive Cleaner – Use a commercial house cleaner like a nonabrasive bathtub cleaner on tougher stains. As with any cleaner, start with a small section to ensure your cleaner doesn't discolor your siding.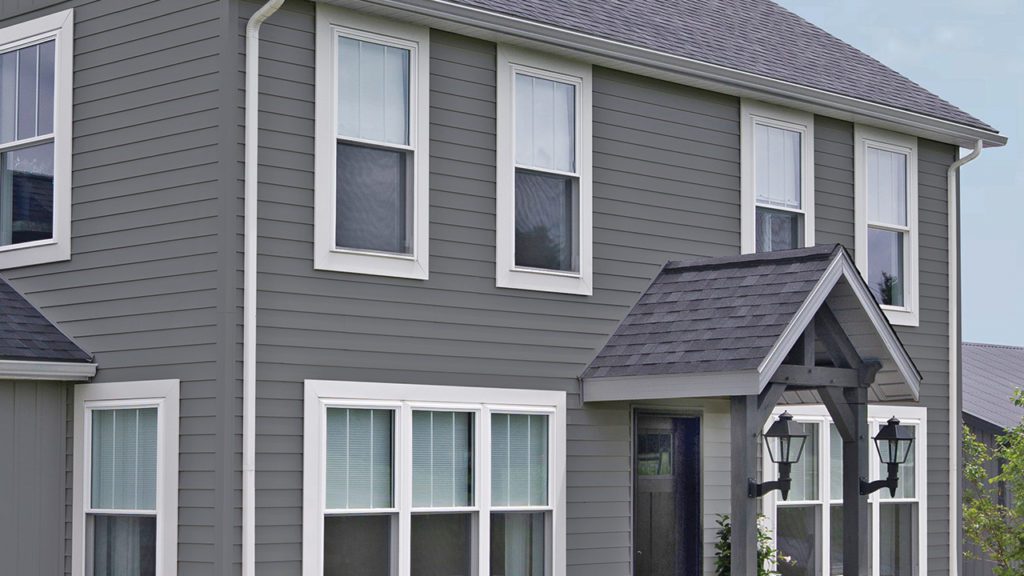 Using a Pressure Washer
Cleaning vinyl siding is even easier with a pressure washer, but some manufacturers recommend against using one. Pressure washing can damage your siding if the pressure is too powerful, so be careful when using this method.
If you use a pressure washer, limit the amount of pressure and do not point the stream straight at the siding. Instead, hit your siding at a downward or sideways angle to avoid any damage to the product. Doing so at an upward angle can drive water behind the siding. Use caution, too, when using a pressure washer around openings like windows and doors.
With a little effort, you can keep vinyl siding looking "like new" but avoid using any product containing undiluted chlorine bleach, nail polish remover, or liquid grease remover as a vinyl siding cleaner. Those, along with highly abrasive scrubbers or steel wool, can damage the surface of your vinyl siding and cause avoidable issues.
If, after cleaning, your vinyl siding doesn't look as good as you want, contact our siding team about a new siding installation. They are available to guide you down the path to a completely new look that you'll love for years.