Installing a portico on your home is a great way to improve the look of your home's exterior and will both increase its curb appeal and value. Porticos also help to protect you from the elements such as rain or snow when entering or exiting your home. When it comes to choosing a new portico for your home there's a few things you need to consider. In this blog we'll outline tips on how to choose the right portico for your home.
Types of Porticos
Typically a portico is designed to complement the existing roof on your home. For this reason you need to consider your home's style and the style of the columns you choose. Some homeowners prefer to match their existing roof exactly, while others prefer to choose a style that accents your current roof. 
There are several styles of porticos available, including:
Round Portico
A round portico is shaped like a semicircle and is often designed with a rounded stoop and held in place with columns. The columns can be any shape you like but typically they are either square or round.
Bracket Portico
A bracket portico is held in place with brackets instead of columns. The brackets are usually designed as a triangle that attaches the portico to your house directly instead of using columns that come straight down to the ground. This is ideal for homes with limited space since they take up less room.
Flat Portico
Similar to bracket porticos a shed or flat portico is also ideal for those with less space. It is also a less formal style of portico and one of the more affordable types to build.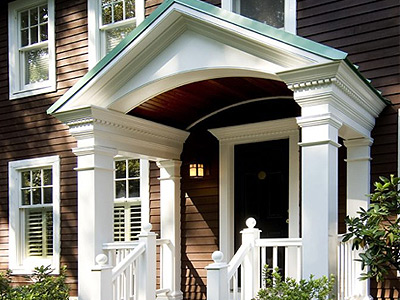 Types of Roof Styles
In addition to the different types of porticos, there are also varying portico roof styles homeowners can choose from:
Gabled Roof Portico
A gabled roof portico is one of the more popular portico designs among homeowners. This type of roof is shaped like a triangle. If your home already has a gabled roof, a portico with the same design style will match the aesthetic perfectly. Gabled porticos can be shallow or pitched depending upon the available space above your entry door.
Upper Rail Portico
Upper rail porticos are flat and can support a balcony. However keep in mind that if you have a window behind the balcony that is decorative and not a working window or doors, the balcony will not be able to be used.
Arched Roof Portico
For homes that have a half circle window above their front door an arched roof is the most popular choice, since the arc of the roof can be designed to follow the curve of the window.
Hip Roof Portico
A hipped portico roof will slope down gently on all sides. Typically, if your home has a hipped style roof, you should match your portico by choosing the same style.
Other Factors to Consider
In addition to the style of portico you want to install in your home, you should also consider how the various options for portico styles work for your home's exterior. For example, you don't want to install a portico style that will block any windows on your home. Another factor to consider is your home's roof lines. Depending on whether your home has a singular or multiple roof lines can impact your decision on which portico roof style will look best with your home.
The finish of the portico is another factor to consider since this may impact the available colors you can choose from, and the level of maintenance the portico will require. The style of columns can also be customized to your home and style preferences. Some homeowners choose to install rounded columns, while others prefer a squared look.
Additions that Complement a Portico
When having a portico installed in their home many homeowners also choose to have a porch and railings installed as well. If you don't already have an existing porch this is a great opportunity to complete the look of the exterior of your home. Railings will make your porch and steps safer to use by your family and guests and aesthetically an attractive addition. Typically, to install a portico a minimum depth of 5 feet is required. If your existing stoop or porch cannot accommodate this size, you may need to remove to expand the size of your stoop.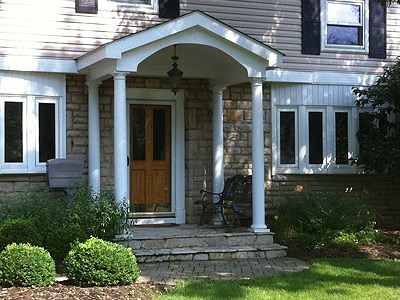 Contact Us Today For New or Replacement Portico Installations
Shopping for a new portico for your home shouldn't be a stressful experience. Our team is the leading portico installer in New York and our team of experts will work with you to make sure your home is properly cared for and maintained.
Our expert team will assist you by walking you through every detail you need to consider when choosing a portico for your home and will ensure your choice will work with and complement your existing roof and stoop. Contact us today and receive a FREE Consultation from one of our home remodeling experts, and we will help you select a new or replacement portico for your home. Call us today at (888) 631-2131 or contact us online.