Choosing new gutters for your home is a smart investment since gutters ensure that water drains away from your home and doesn't cause serious damage to the roof, siding, and foundation. While making the decision to replace the gutters on your home is easy, choosing the right gutters for your home isn't as simple of a task.
Homeowners have a few options available to them when it comes to buying new gutters. This is why we've created a guide to help you choose the right gutters for your home.
Gutter Material
Gutters come in a variety of materials that each have their own pros and cons. Here is what you should consider with each:
Vinyl
Vinyl gutters are a popular option for many homeowners because they are lightweight, easy to maintain, come in a wide variety of colors, and are an affordable option. One thing to consider is that vinyl gutters can break down over time due to sun exposure and will need to be replaced more frequently than other gutter types.
Aluminum
Aluminum gutters are also lightweight and are another affordable option, however, unlike vinyl gutters they tend to lack in strength and durability, and will require homeowners to maintain them regularly.
Steel
Steel gutters tend to be best for those who live in areas with harsh weather conditions as they are very durable and long-lasting. These gutters however, require maintenance and care since they can easily rust and tend to be more expensive than other options.
Copper
Copper gutters are a popular choice among homeowners since they are very durable, however like steel and aluminum gutters they require regular maintenance. They can also become discolored over time and tend to cost more than other options.
Gutter Size
Choosing the right size for your gutters is one of the most important factors to consider. Both your gutters and downspouts need to be big enough to accommodate the amount of rain you normally get in your area. If you don't choose the right size the gutters can overflow and cause damage to your home.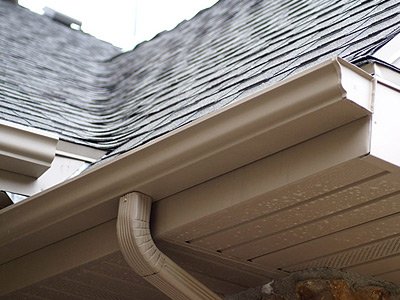 Gutter System Type
There are two types of gutter systems to choose from – a traditional gutter system and a seamless gutter system. Traditional gutter systems can last close to 20 years if they are properly maintained. Seamless gutter systems on the other hand are a good option for homeowners who want to keep birds or pests out of the gutters, they are easy to maintain and come in different colors to match your home's look. Seamless gutters also last much longer than traditional gutter systems.
Gutter Pitch
In order for gutters to drain properly, the slope, or pitch of your gutters needs to be correct. A steeper slope is ideal because it will improve the flow of water and will help keep debris away from your home. Your gutter installer will help you determine the right pitch for your home and gutters.
Local Gutter Regulations
In some areas there are town, city, or even homeowners association regulations that must be met when it comes to gutters. It's important to check with these first to ensure they are met, otherwise you will end up spending more money having to meet the regulations later.
Consider Curb Appeal
Many homeowners don't realize this, but gutters actually provide a lot of curb appeal to a home. When selecting gutters be sure to choose ones that not only function to protect your home, but also compliment the siding and roof aesthetically.
Consider the Maintenance
As mentioned earlier, different gutter material types require different levels of maintenance. Gutters tend to become clogged with leaves and other debris which means they need to be cleaned regularly. Having gutter screens installed can help maintain your gutters as well and keep them clear and in good condition.
Contact Us Today For New or Replacement Gutter Installations
Shopping for gutters for your home shouldn't be a stressful experience. Our team is the leading gutter installer in New York and our team of experts will work with you to make sure your home is properly cared for and maintained.
Our expert team will assist you by walking you through every detail you need to consider when choosing gutters for your home and will ensure they meet your specific needs and requirements since every home is different. Contact us today and receive a FREE Consultation from one of our home remodeling experts, and we will help you select new gutters for your home. Call us today at (888) 631-2131 or contact us online