Benefits of Masonry Construction
There are many benefits of masonry construction for homeowners. In addition to aiding your home structurally, it also adds an aesthetic appeal to your house increasing its value tremendously. The most common types of masonry construction are brick, stone, and concrete.

Unique mason stonework can offer your home a more appealing and unique style unlike any other homes on your block. Homeowners can add a stone walkway, have the front of the home covered, or even add a new low stone wall around the porch or perimeter of their house. Our talented team will work with you to design the walkway, driveway, or wall for your home that you desire.
Advantages of Masonry Construction
There are many benefits to masonry construction, including:

Masonry is non-combustible, which means it improves fire protection for your home.
Masonry is resistant against rotting, pests, mold, and fungus.
Structures are appealing and provide an attractive rustic or elegant look to your home.
It can withstand large amounts of weight and will not break easily.
It is water-resistant meaning it will hold up against heavy storms, extreme heat, and cold.
Masonry is maintenance-free, meaning your home will look beautiful for a lifetime.
Masonry adds value to the home and can also lower utility bills due to its amazing insulating properties.
Masonry construction provides more structural durability for your home.
Concrete mason walls act as a sound barrier keeping the inside of your home quite.
Masonry can help maintain heat making homes more energy-efficient, saving you money.
In addition to the above benefits, masonry construction is also very cost-effective since it is durable, low-maintenance, and can add energy-saving benefits to the home all of which provide additional savings in the long run.
Masonry construction is also fully customizable and allows you as the homeowner to create the perfect aesthetic for your home from rustic to refined to modern, the possibilities are endless.
Unique stonework can create a more appealing and interesting style for your home. Masonry construction options include adding a stone walkway, adding masonry siding, adding a low stone wall around your porch or even an outdoor fireplace or grill for your summer parties. Our team of professionally trained stonemasons can work with brick, stone, pavers, or faux products to create the ideal look you want for your home.
A few types of masonry construction you can consider for your home can include: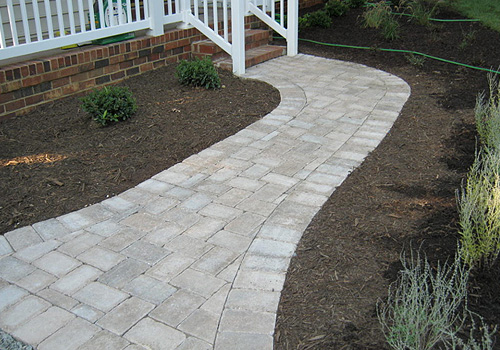 Brick Masonry Construction Benefits
Brick masonry is a more affordable option than other mason types and can be adhered using different types of mortar, depending on structural requirements. Since they are uniform shape and size they create a clean, symmetrical look that is desired by many homeowners. Bricks can be used for virtually any project including walkways, walls, and openings for doors and windows.
Stone Masonry Construction Benefits
Stone masonry is the most durable, strong and weather-resistant, due to the natural durability of this type of material. It is recommended for areas with high foot traffic like walkways, patios, or walls. One of the greatest advantages of stone is the aesthetic it offers, as it comes in a variety of colors, sizes, and textures. Stone masonry also requires little maintenance and repairs. Stone does not warp, swell, bend, or dent, and will withstand all types of weather conditions including wind, rain, hail, sleet, and snow.
Concrete Block Masonry Construction Benefits
Concrete blocks are ideal for homeowners as they are resistant against weather, pests, rotting, mold, and fire. These blocks are available in many sizes, finishes, and colors. They also have good insulating properties against heat, sound, and moisture. Another great advantage of concrete masonry is that they use recycled materials that don't contain any harsh chemicals that can negatively affect your health or the environment.
Contact Us Today
If you're ready to make a change to your home, give our team at Unified a call today at (888) 631-2131 and let us turn your dream home into a reality.