What are the signs, and when is the right time for a roof replacement? Sometimes roof damage sneaks up on you without much warning, but there are obvious clues in many cases where your roof might be showing signs of wear and tear. Maybe a violent storm passed through your area recently and damaged some roofs. When your roof appears to be damaged, you should take action and call a roofer immediately. 
Don't miss these 8 roof replacement signs.
1. Visible Roof Leaks
Leaks are a common sign that your roof needs to be replaced. Roofing leaks can occur for various reasons, including worn-out materials or storm damage. A weak roof can allow water to seep in through the shingles and into the interior of your home. Don't have a stash of buckets to collect the dripping water–get your roof replaced! If you have a persistent roof leak or multiple leaks throughout the roof, it's time to take action to replace it. Leaks will destroy the structure of your home.
2. Interior Water Damage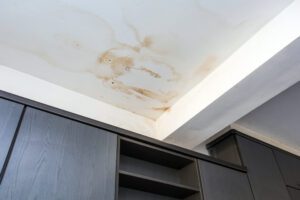 Visible drips aren't the only sign of a leaky roof. Leaky roofs often result in interior water damage. A common sign of a leaky roof is streaks, stains, or water spots in your home's attic, ceiling, or walls. There are other causes of water damage, such as burst pipes, leaking appliances, and faulty faucets. A leaky roof most likely causes the water if it's in your attic, ceiling, or near the top of your walls.
An experienced roofing contractor would be best suited to check your roof and determine if the leak is caused by your roof. Depending on the extent of the damage, they will determine what needs to be done. The most common solution is to replace the roof. 
3. Curling, Missing, or Mossy Roof Shingles 
There are times when roof damage is evident from the ground. Your roof's shingles are the gateway to your roofing system, so if you notice missing, curling, or cracked shingles, it may be time for a new roof. 
Visible shingle damage typically takes the following forms: 
Shingles with cracks

Shingles that are curled or damaged 

Missing or loose shingles 

Missing shingle granules 

Growth of moss or algae
New York is known for its brutal winters, and the weather can be tough on your roof. Over time, shingles degrade and decline due to frequent heating and cooling. Make sure to check your home every time a significant storm occurs and after the winter has passed.
4. It's Been a While Since Your Roof was Installed or Last Replaced.
Look at your home improvement records to see how long ago your roof was replaced or reshingled. It is possible to determine how long a roof has left by knowing when it was installed and what material it is made of. 
Can't find any home improvement records? Well, when was your house built? It's possible that you still have the original roof! Regardless of whether you see any signs of damage on your roof, if your home is 20 years old or older, you should have your roof checked. You can also take a look at your neighbor's homes. Are they replacing their roofs? If so, then the time may be up for yours as well. 
Roofs last a different amount of time depending on the material they are made from. The International Association of Certified Home Inspectors has reported these average roof lifespans:  
Asphalt shingles:

20–50 years

Wood shingles:

25–30 years, but can last up to 50

Metal roofs:

40–80 years. 

Concrete or Clay tile:

50–100 years

Slate:

60–175 years
5. You Found Granules or Shingle Particles in Your Gutters
What do you see when you clean your gutters and downspouts from a ladder? Is there more there than the typical leaves, branches, and nuts from your trees? 
Asphalt shingles have granules, which protect the asphalt core from sun damage. Shingle deterioration is accelerated without granules to keep the sun's rays away from your home. It's normal for a new asphalt roof installation to shed some granules, but it's a severe problem if it's more than 10 years old.
6. The Roofline is Sagging
A closer look at your roofline may also reveal if you need a new roof. There should be no bends or curves in your roofline. You should investigate the cause of any dipping, curving, or visible sagging you observe. In addition to framing issues, water-saturated roof decks can also cause sagging rooflines. This is a very easy-to-spot roof replacement sign. 
When shingle damage, leaks, or water damage accompanies a sagging roofline, it's crucial to take action quickly to prevent further damage. Occasionally, sagging rooflines can cause partial or complete cave-ins destroying your home's attic and structure.
7. Peek-a-boo! You See Light Shining Through Roof Boards
See the light? Skylight windows or other similar products that expose the roof's inside may appear to have a streak of light through them. This is a clear sign that the roof has missing or damaged shingles and is likely to leak. The roof should be replaced at any sign of light getting into a home or business through the roof. The best way to check this is to go into your attic on a sunny day and look up. If you are able to see daylight, that is a roof replacement sign and means your roof is exposed, and water will be able to infiltrate your home.
8. Your Energy Bills are a Bit Higher Than Usual.
Poor insulation and ventilation can increase your power bills when energy escapes from your home. Windows are usually the source of air leakage, but gaps in the roof or improper insulation of your attic can also be the cause. When you notice that your electric bill has increased considerably, it may be time to examine your rooms to find out what is causing it. Think it's your windows? Here are five other signs that you may need those replaced.
Next Steps: Have You Noticed Roof Replacement Signs? 
Finding a local roofing contractor is the first step in a roof replacement. The contractor's experience and skill will significantly influence the quality of the finished product. Choosing a contractor familiar with Long Island's weather patterns is also important. With the right contractor, your new roof will last for years to come. 
The Time to Act is Now.
It's essential to act fast when you suspect a problem with your roof since it's your home's first line of defense against the elements. Left unattended, roof damage can progress quickly, even if caught early. Call a UNIFIED expert today at 888-631-2131 to get a free roof evaluation and estimate for a brand-new roofing system.